30 Meaningful Words, Part 2 (Words 11-20)
Shoot Concept: I think we all hide behind some sort of mask at some point in life. To represent this, I created a mask of collaged words that overlap with the 30 words in this post to show the unmasking of the labels or thoughts about ourselves that we may hide behind. And also, the growth words that we hope to wear confidently. 30 can be a turning point for us to come alive, and show the world who we have grown into.
Enjoy!
-KayGood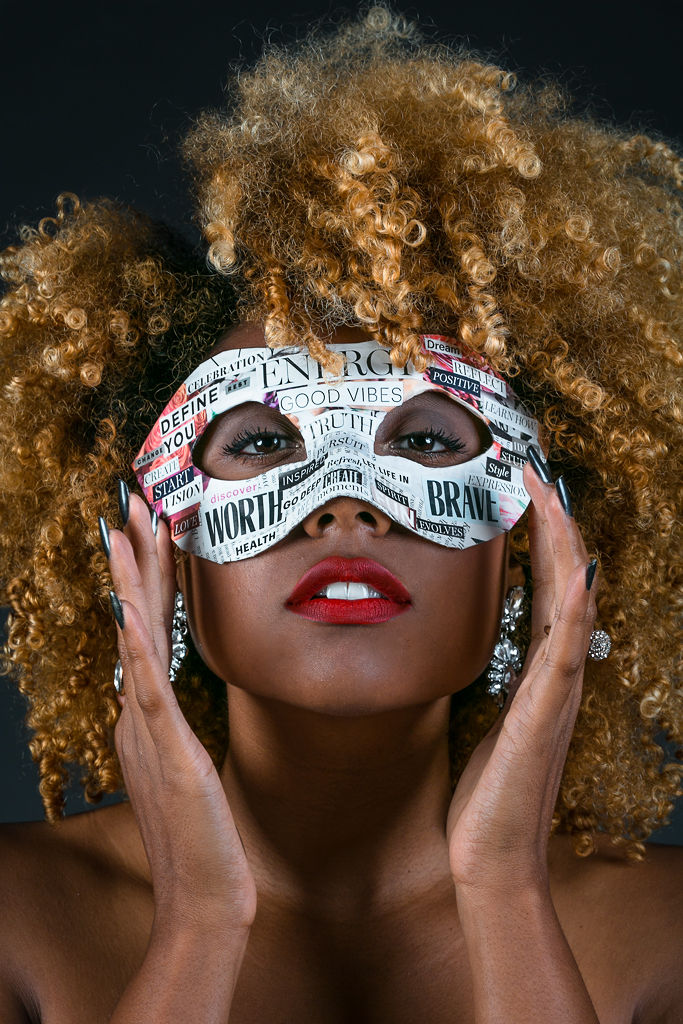 Grace – I learned what grace is when I realized what grace is NOT. The feeling of doing something without grace is heavy, hard and always questionable. While on the contrary, doing something while having grace feels effortless, seamless and fulfilling. Grace is provided to me when I am meant to do something, or when something is meant for me. Any time something begins to feel like it is out of my control, hard or complicated, I know that I am not handling it gracefully and that I should probably move on to something else.
Wonder – Who doesn't wonder? I feel like we wonder about everything! Or at least we used to as children. Wonder is something I value now more than ever because it allows me to look past limits and through to possibilities.
Yesterday – A lesson and a memory. A word that describes who I used to be before I experienced the unfolding's of that day. Yesterday is something that I try my hardest to never focus on.
Today – The most important day in the world! Today, is where I try to keep my focus because it is the only day that I can handle right now. And today is always the day to start over, start fresh and begin again. Being in today means that we are being in the moment.
Tomorrow – The UNKNOWN. I try to remind myself all time that tomorrow is just as unknown as a year from today is. We never know what the future, or the near future brings. So while it is important to plan, I try to remember that not everything will be what I expect it to be tomorrow. Tomorrow is where I learn to roll with the punches and go with the flow.
Celebrate – I used to feel like this word was only necessary for birthdays or huge achievements like graduation or marriage. But what I am learning is that we have little wins in life ALL the time that should be, and deserve to be celebrated! It doesn't have to be an expensive or extensive celebration, but I think it's important to cheers to or indulge in something for even the smallest accomplishments. It's how I remind myself that I am always progressing and doing well. And to this day, I am still working on celebrating more!
Bravery – This word typically makes me think of a super hero, or someone who is never afraid to conquer big fears. But I've learned that even facing the smallest fears we have is brave. Every step we take towards not being scared to do something new or different is a huge act of bravery.
Blessed – Having no more or no less than what God wants me to have. We always want more, or less of something. We are never satisfied with what we have. But I believe that whatever I've been given or NOT been given is a blessing. I never want more than what God wants me to have. That's what I consider being blessed.
Perspective – Even when I disagree with someone's choices or reality, I still have the ability to see things from their perspective. Seeing anything from only one side is a selfish decision. Having perspective helps me be more selfless.
Anxiety – The result of thinking too far in the past or too far into the future. Anxiety is something we all have on different levels, for different reasons. But I have found that staying in the moment and being willing to surrender to whatever life throws at us, helps us face anxiety with strength. Anxiety has a hard time existing when we focus on the present moment.