LA's Grayest Day
A Poem Dedicated To Kobe Bryant In Regards To His Passing
Did you hear what TMZ said?
Is what the text read,
when we realized
the world was about to be flipped upside down, emotionally paralyzed.
I typed in your legendary name,
as if I was searching for some F.A.Q.'s.
Wishing the first article to pop up
wasn't confirming today's truths.
No! Was my first word.
A shed tear was my first action.
At this point it didn't even matter how it happened.
It was over.
We knew that you were gone,
It was confirmed and sickeningly true.
In surreal disbelief,
Sunday gave us the darkest blues.
I couldn't bring myself to read any details,
it wasn't even noon.
All I could think about was your last thoughts,
and how you were gone way too soon.
But your family.
Your wife.
Your children,
How in the world will they cope?
Just when we thought it couldn't be any worse, the day lost a little more hope.
Your baby girl, your shadow.
Your twin, your protégé.
She shared her last moments with you.
Her soul too, left the world that Sunday.
Only God knows the reason for this loss.
But it's in our nature to ask why.
Why did one of our biggest mentors have to die,
now unreachable in the sky?
So many are affected.
So many that you didn't even know.
All of us took a piece of your greatness
attempting to make it our own.
Not just a leader in basketball,
But an inspiration for serving life's purpose,
The Mamba Mentality will now be applied in surplus.
You did it.
You told us.
You showed us how you do you.
You set an example of the principles that we all can follow too.
Chasing dreams is hard,
and being an example of what to do in life is even harder.
But you always encouraged hard work,
the main reason we continued to watch you go farther.
This moment is forever unbelievable.
We all expected to watch you grow old.
This is clearly an example of why we need to let our own lives truly unfold.
To our fullest potentials,
never taking life for granted.
Complaining much less,
and fear not being handed,
the challenges of life,
and the requirements it takes to be the best.
It isn't about money,
and the amount of people we can impress.
Your life is a reminder,
that we all get a short time here.
Getting closer to our fate each day,
never knowing exactly how near.
So what do we do now?
After LA's grayest day?
We do what Kobe would do,
And go win this life game, if we're gonna play.
If I can say anything comforting,
it's knowing that you and Gianna are together.
But honestly, this one hits different,
and it might hurt forever.
However, I think I'm speaking for us all,
when I say thank you for all the years.
Your jerseys will continue to hang high,
and for you, there will always be purple and gold cheers.
Rest In Peace Kobe & Gianna
Written By: KayGood
LA's Grayest Day – A Poem Dedicated To Kobe Bryant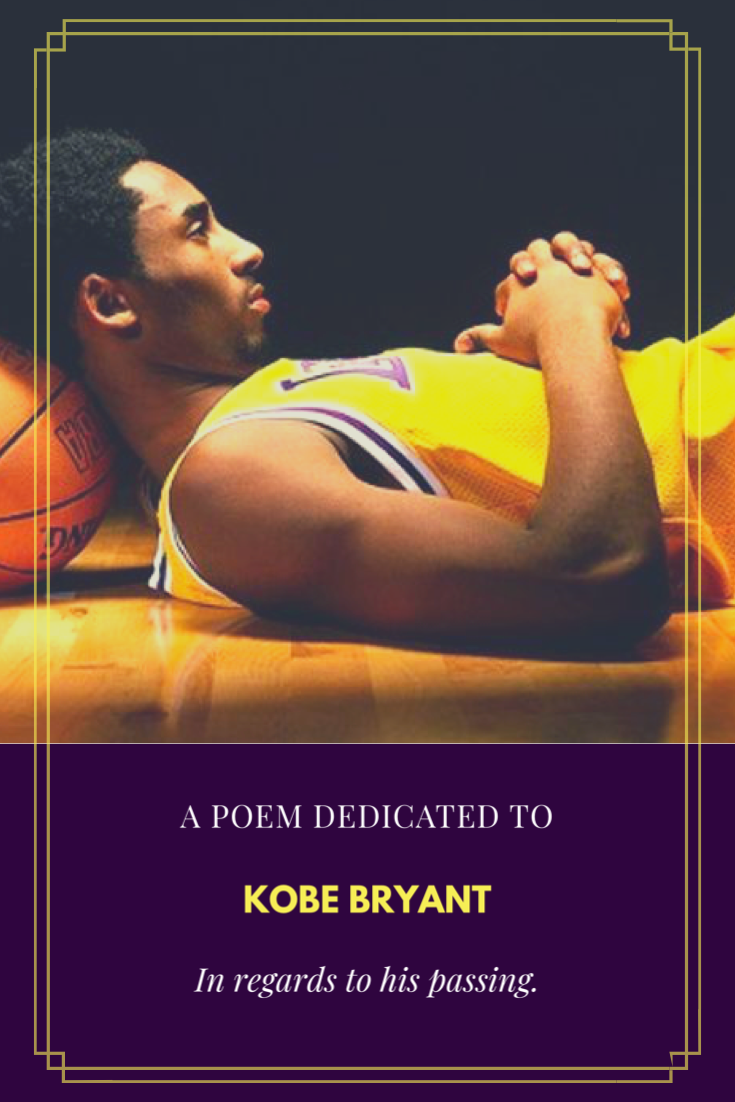 For more creative writing click here for "What is Beauty to You?"