Long before Cats & Mats Yoga, I've Loved Cats.
It may be news for some, but for those that know me well, know that many moons before Cats & Mats Yoga ever existed, I've loved my little feline friends.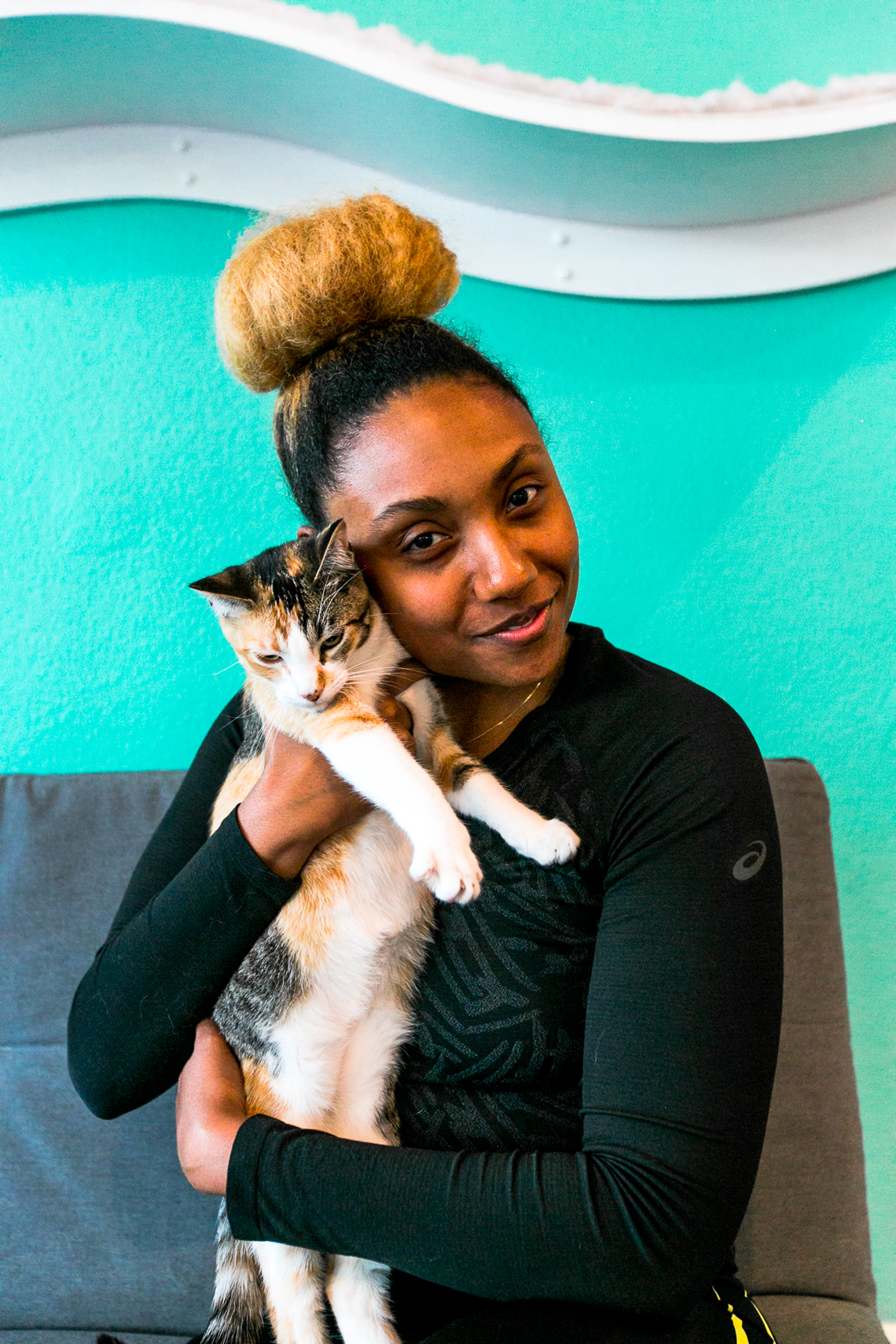 As a kid, my mom and I would unconventionally rescue street cats in Oakland. I couldn't resist their cuteness, and my mom couldn't resist my love for them, so she made it possible for us to find a way to save some of them.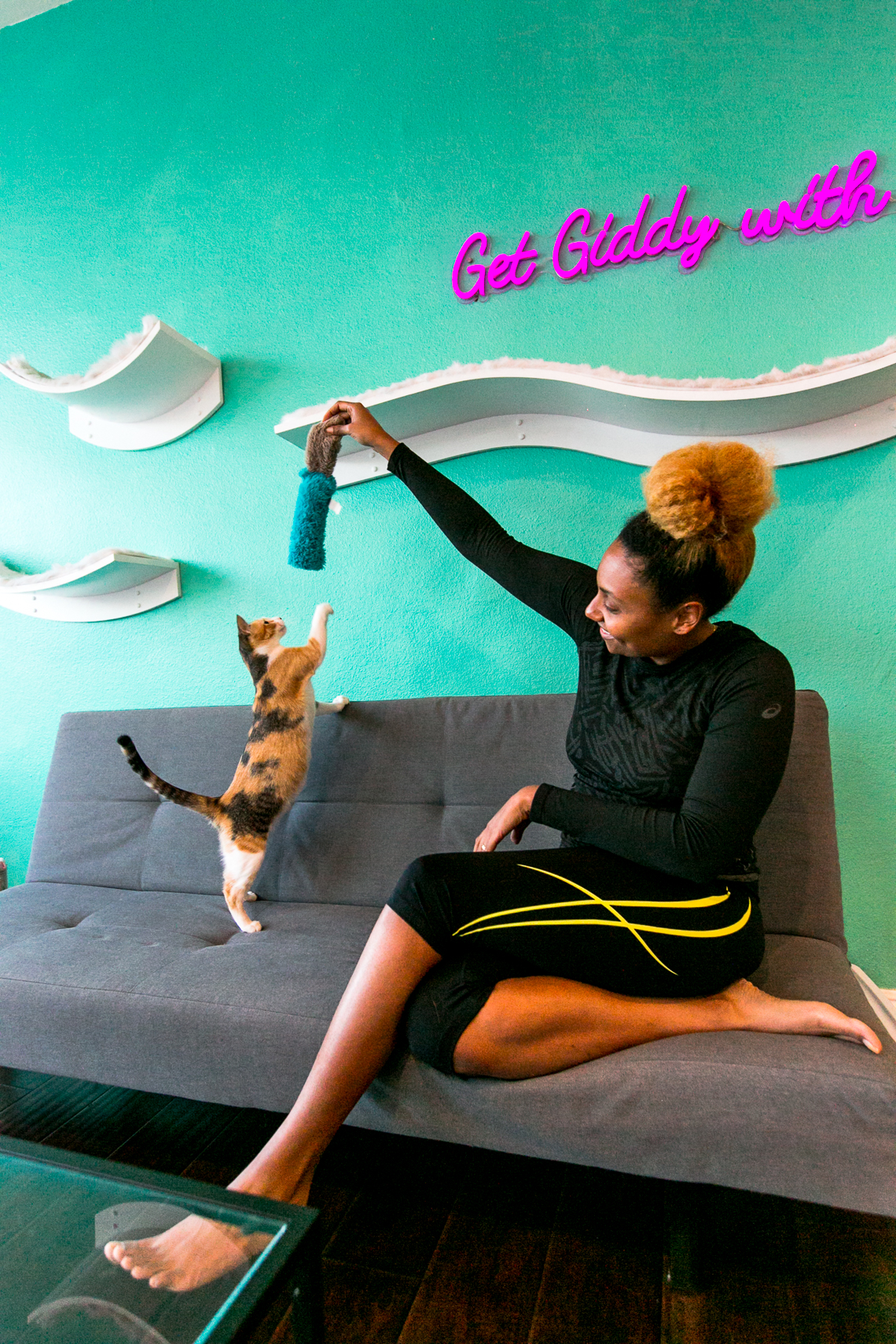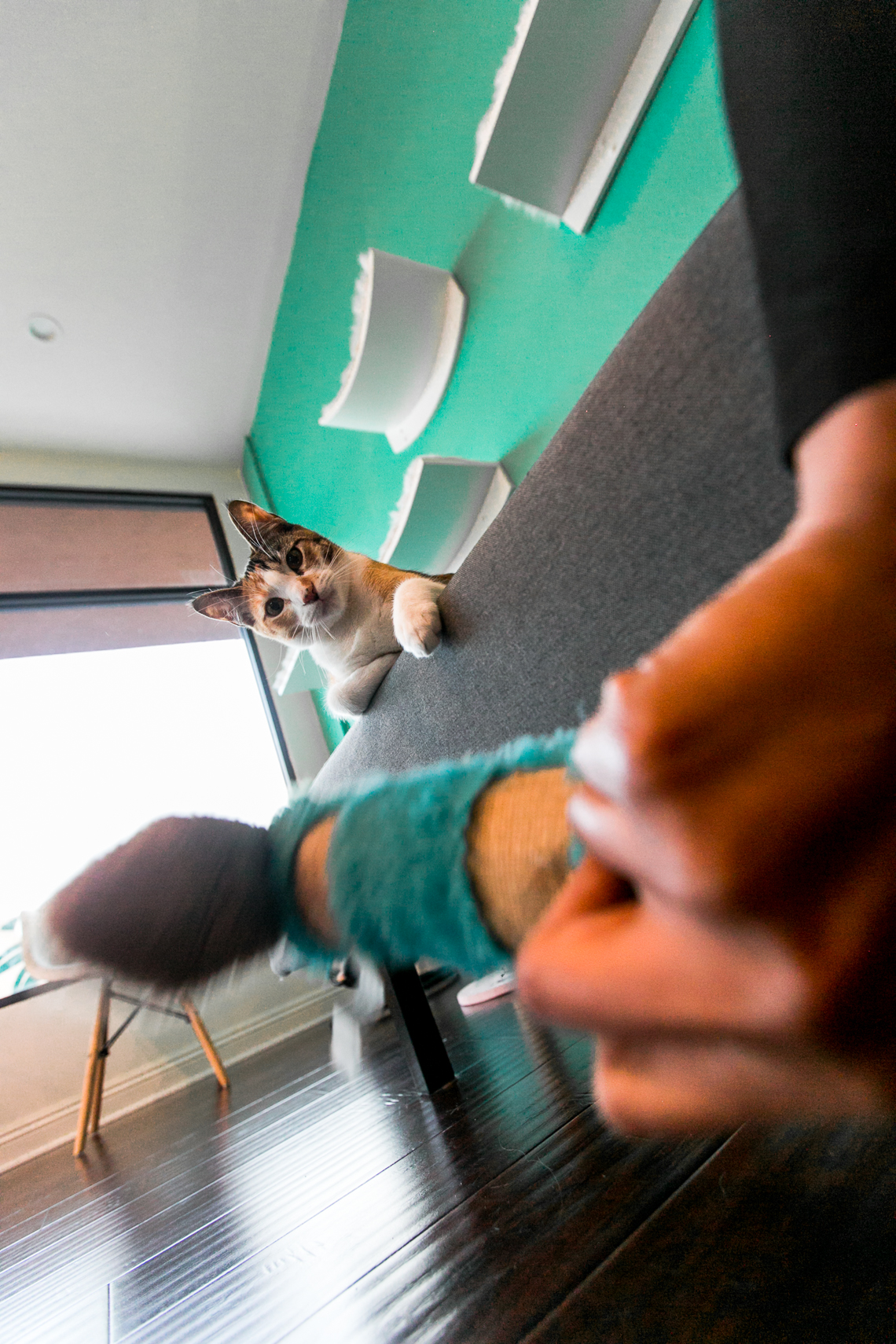 Once we started keeping a few of them as our pets, I quickly learned how smart and loving they were. Although I don't have any pets today, I still love kitties so much. Anytime that there is an opportunity for me to spend time with a feline friend, I'm taking it.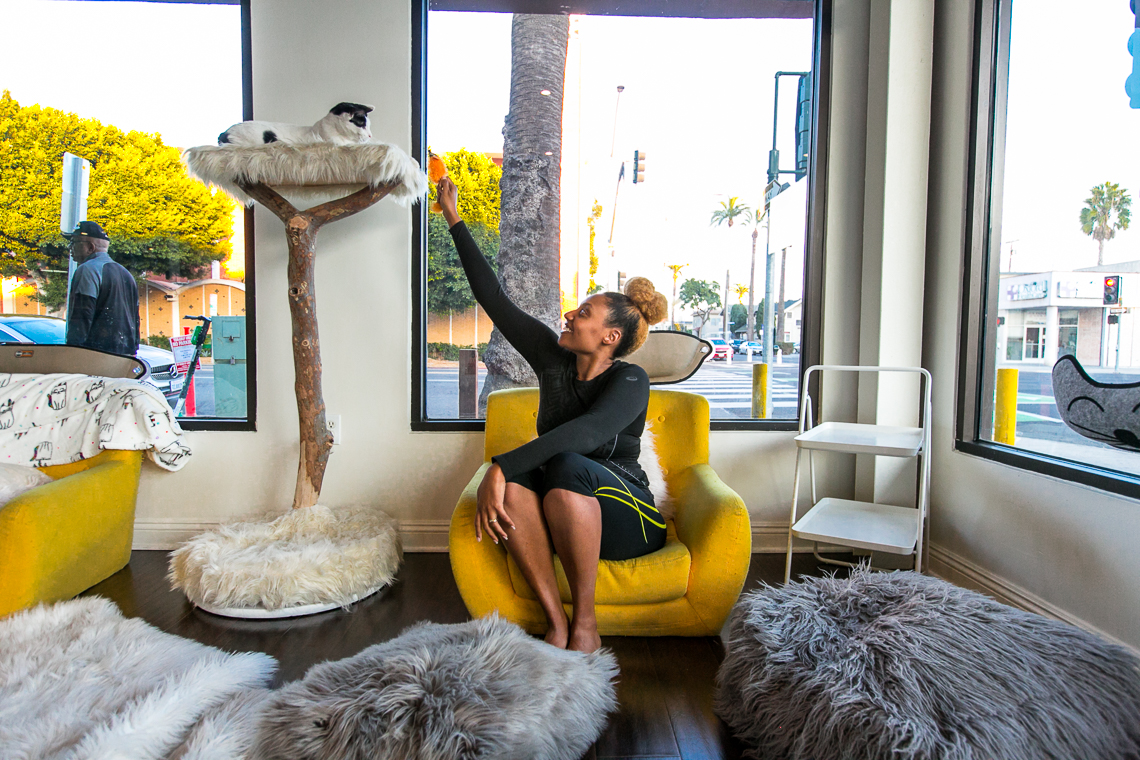 Feline Good Social Club
In DTLB, there is a "cat lounge" called the Feline Good Social Club where people can hang out with and/or adopt healthy rescues.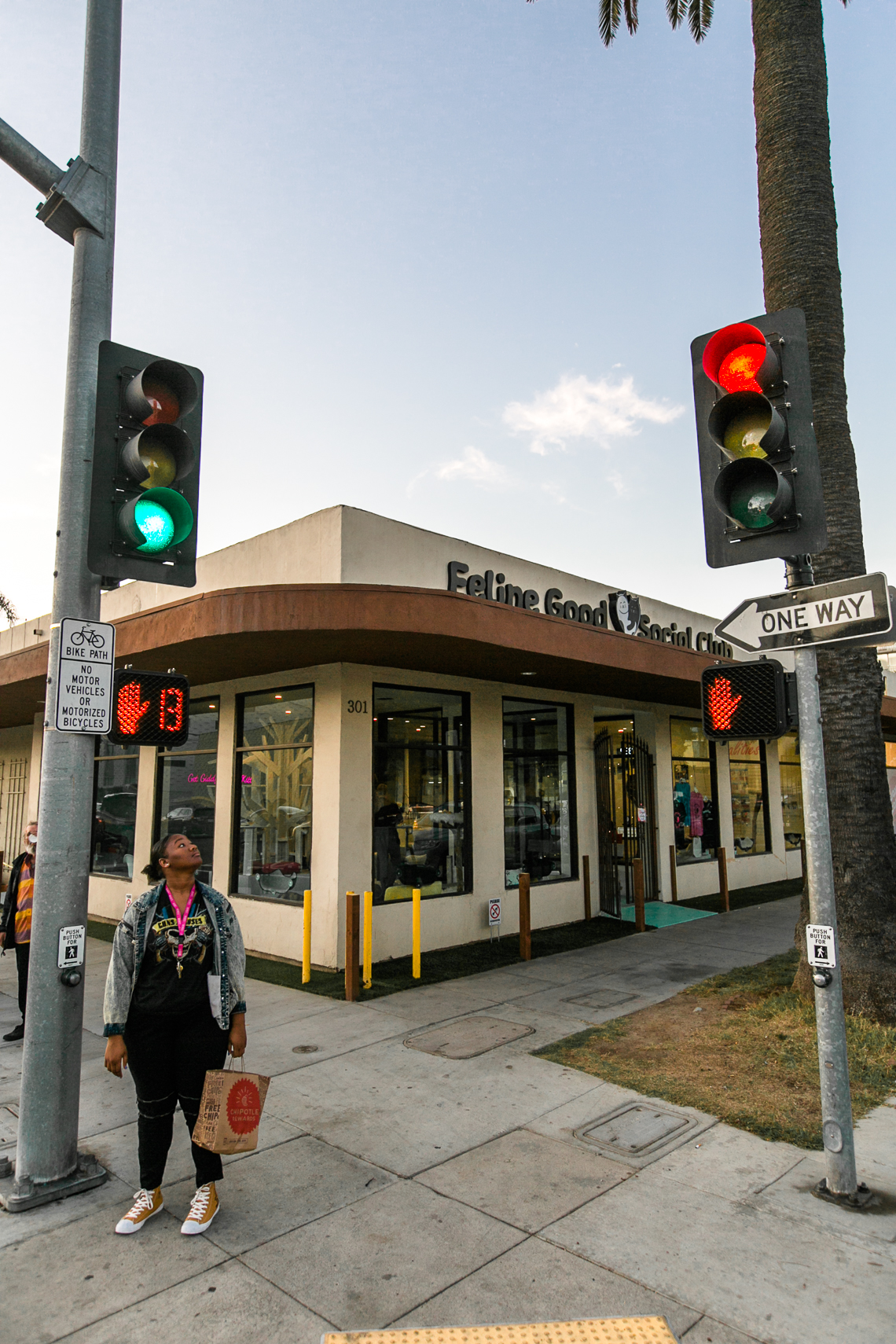 Cats & Mats Yoga
The FGSC also puts on special events like paint nights and yoga where people can enjoy a fun activity while also sharing the space with kitty friends. My friend and Yoga 108 Studio instructor, Reika, (which might I add, is a wonderful yoga instructor) lead a Cats & Mats yoga session at the FGSC that I absolutely could not miss out on. Also, if you ever have the chance to take Reika's class in Long Beach, I highly recommend it! Here's a link to her yoga class schedule.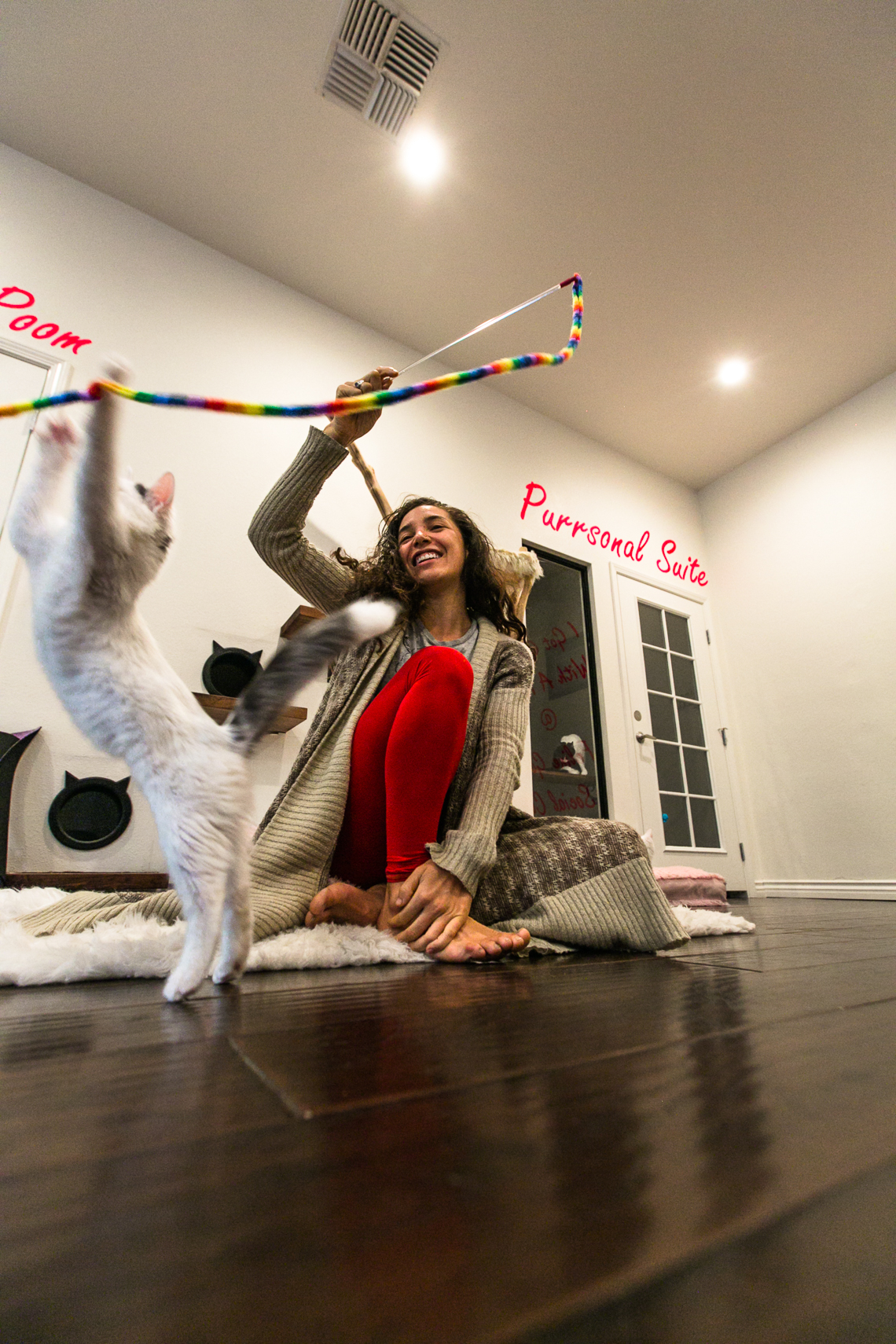 Live Clothes Minded receives earnings on all purchases made through Amazon affiliate links shared in this article.
Play Time
I arrived to the Cats & Mats yoga event about 20 minutes early to have some play time before getting into the yoga flow. So many kitties running around, it was kind of overwhelming in the best way possible. I couldn't decide which kitty to pay the most attention to! But I realized that the best way to enjoy the cats in the space was to let them come up to me at their own will.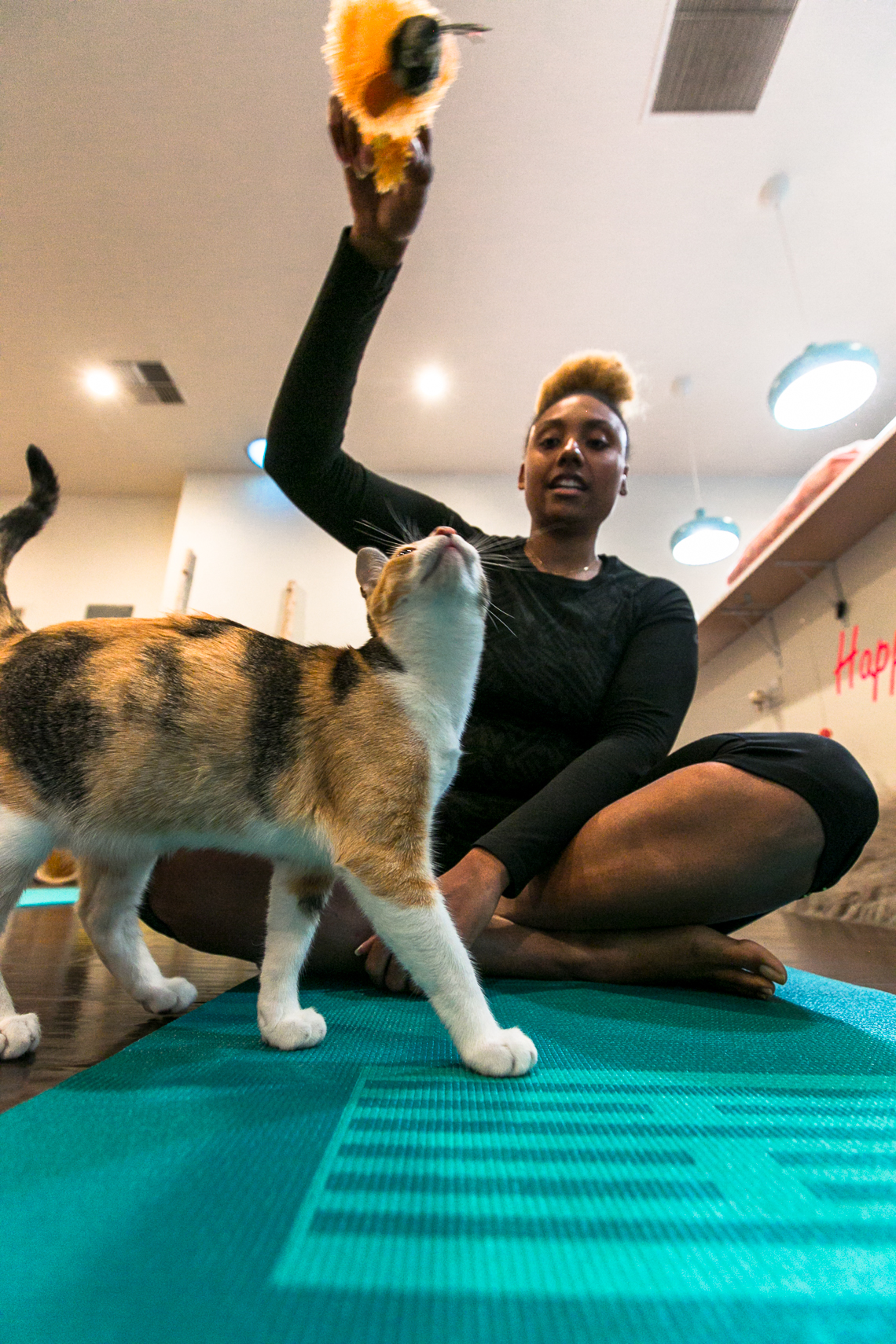 Once the yoga flow began, I was so curious to see how the cats would behave while the small group of us were in the middle of downward dog, and so on. Sure enough, they simply joined in on the mix, sniffing around our mats and laying in very inconvenient places as we needed to switch from one position to the next. And of course, no one minded. 😉
Definitely feeling like a kid again…
…being surrounded by sweet fury creatures and doing one of my current most favorite activities, yoga. It was a moment for me to relax, smile and take it easy with some feline friends. Finally, I'll let the images, most of which are taken by Rsee himself, tell the rest of the story from here. 😉
To all my cat lovers, enjoy.
-KayGood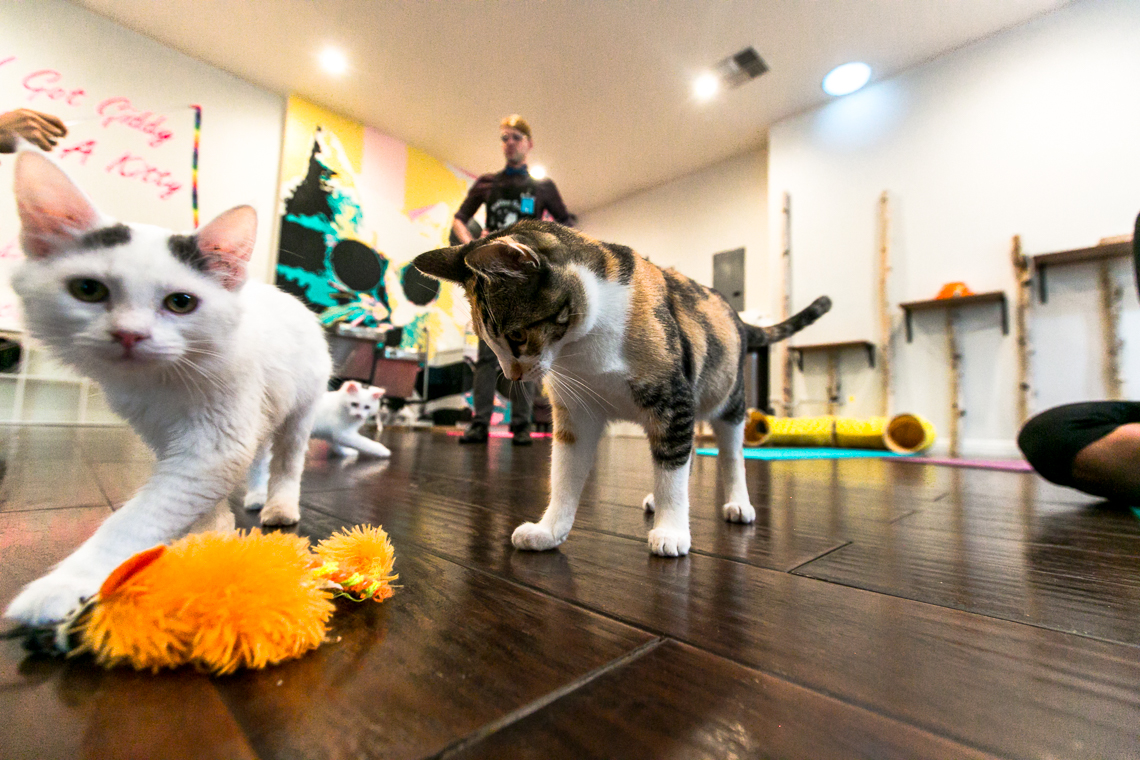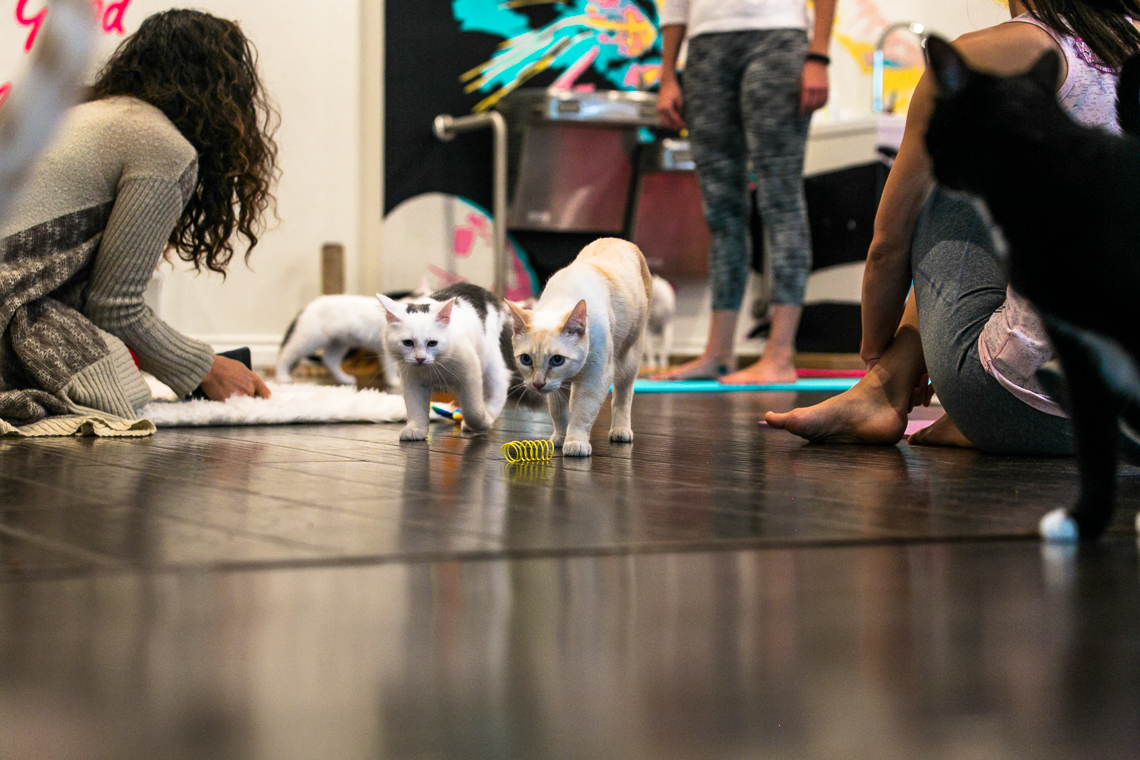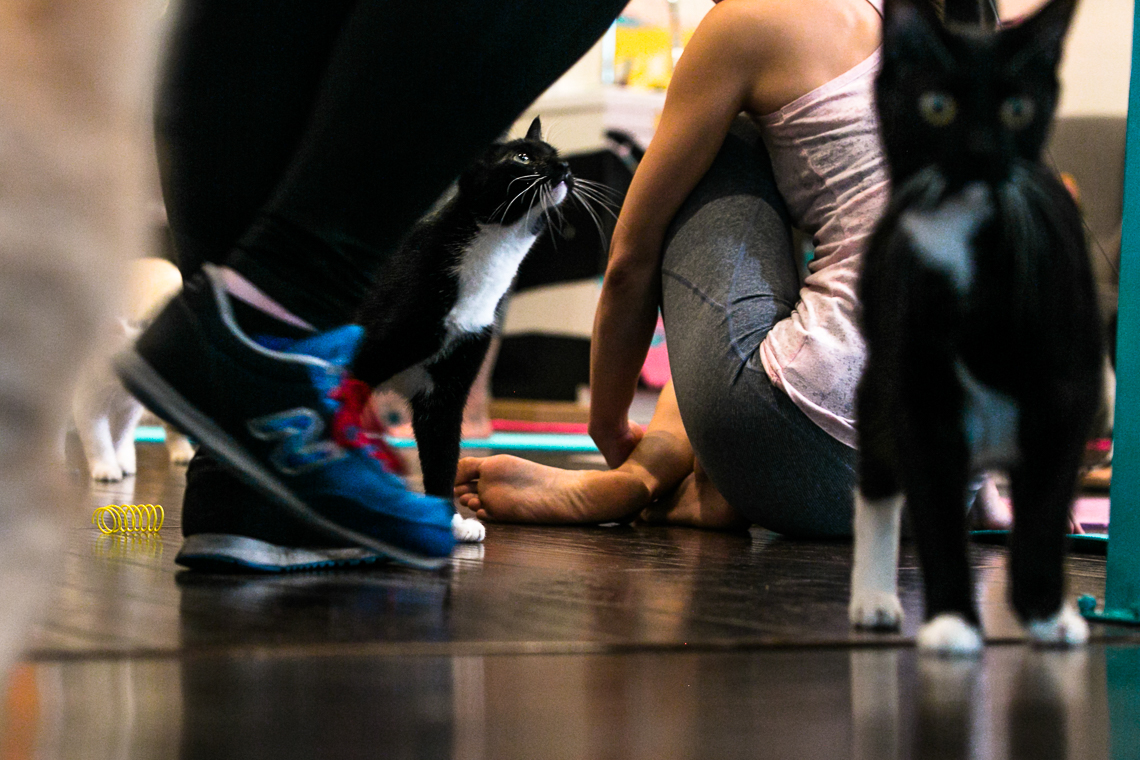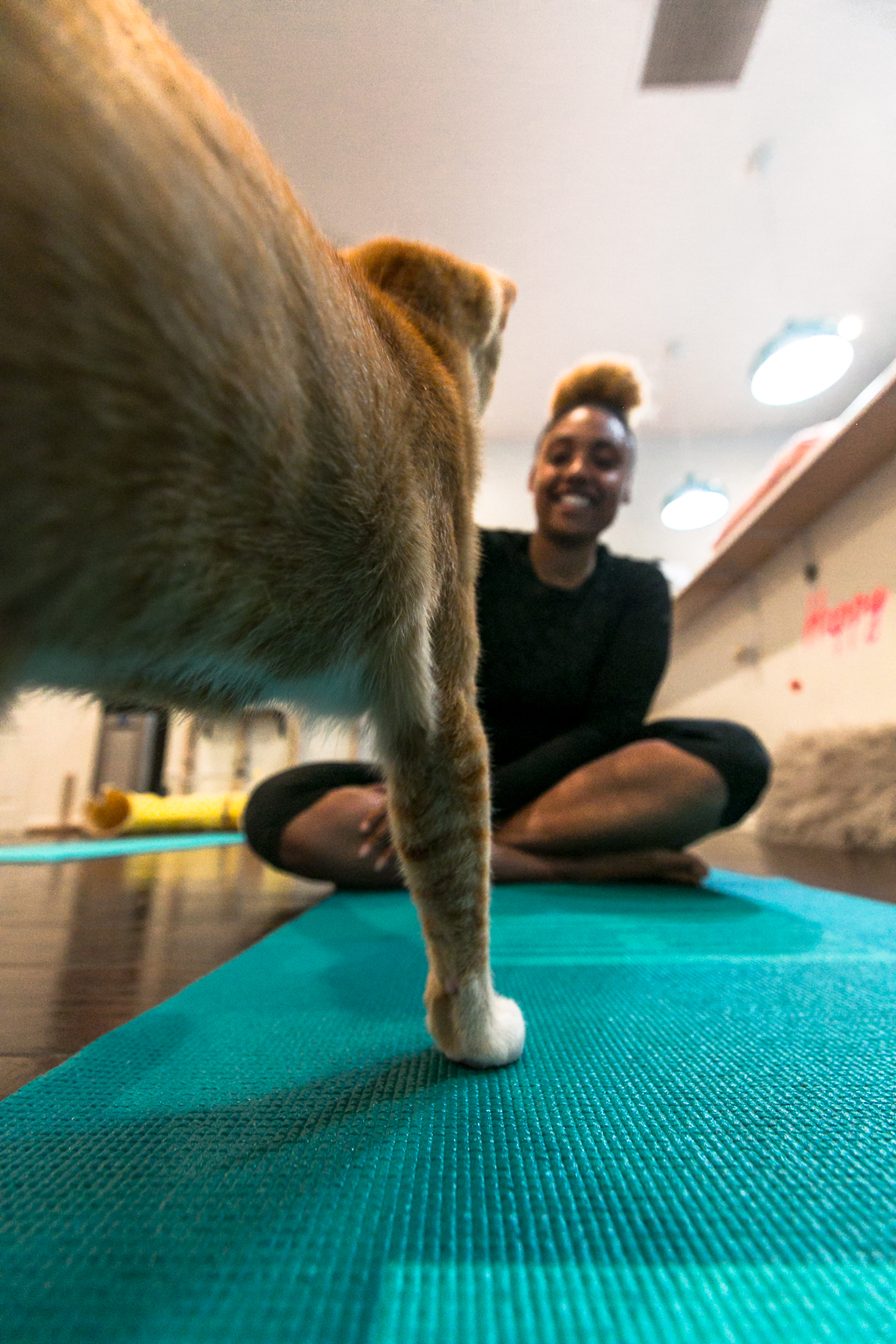 If you like cats, you probably like animal printed clothing too. See ways to wear animal print here!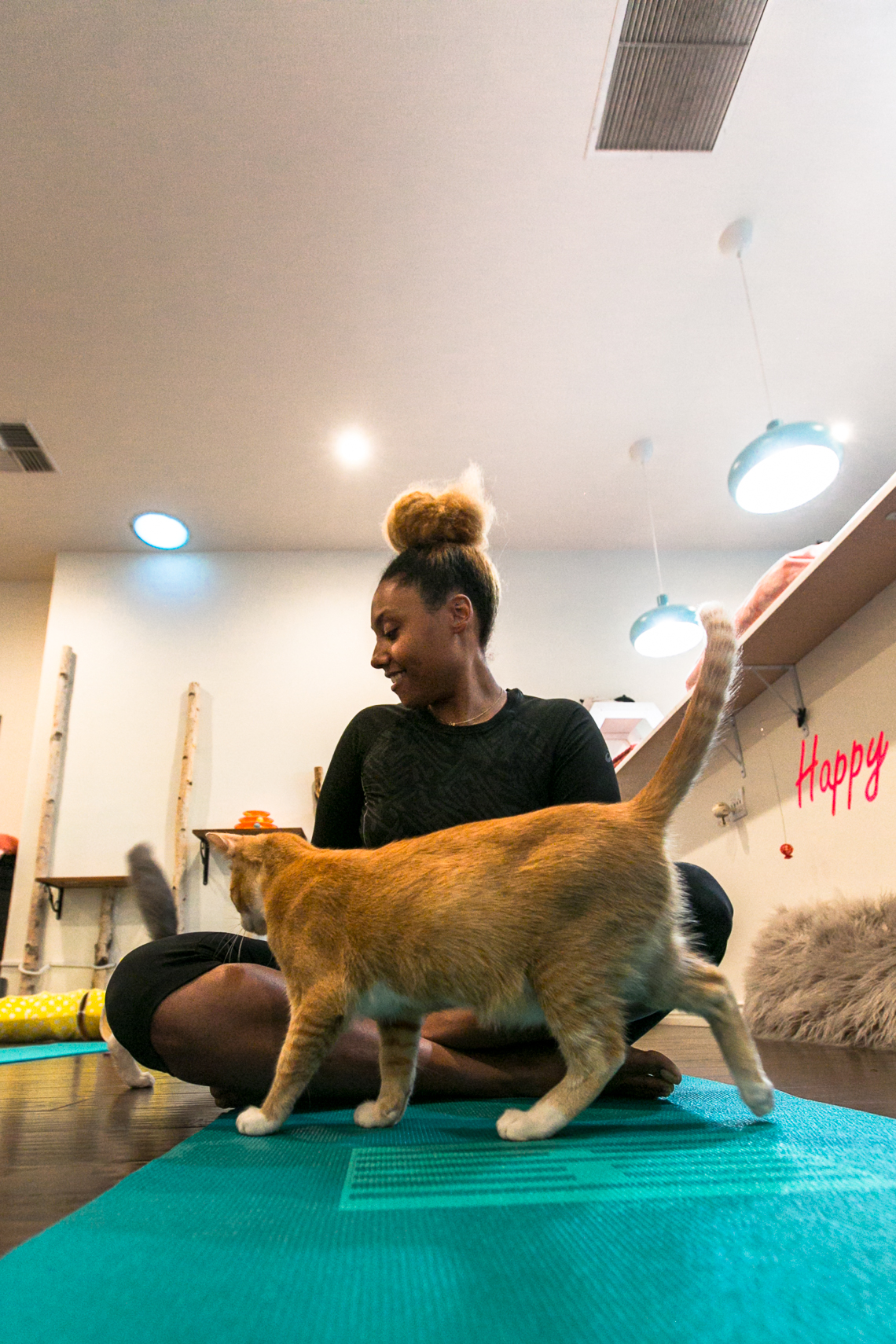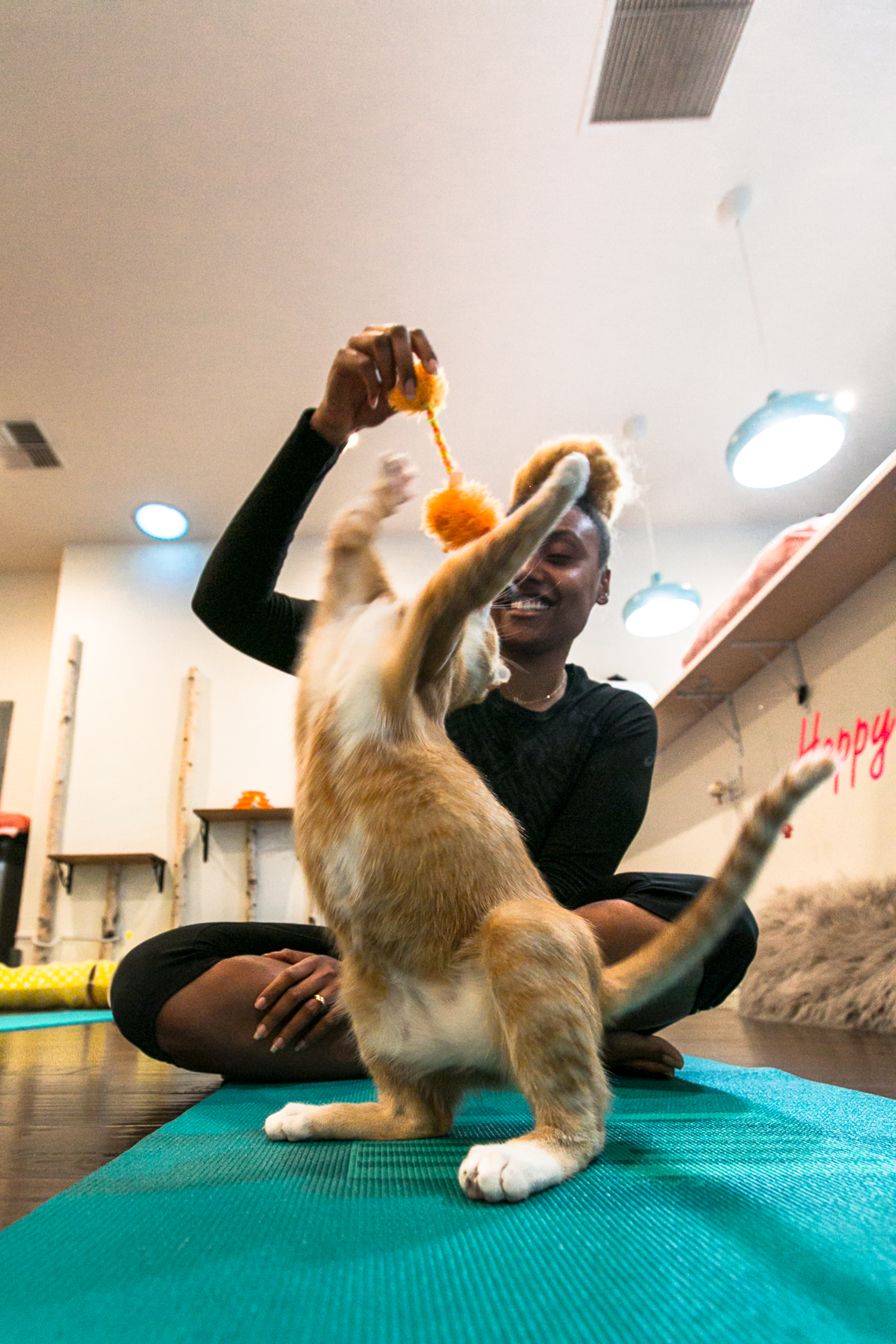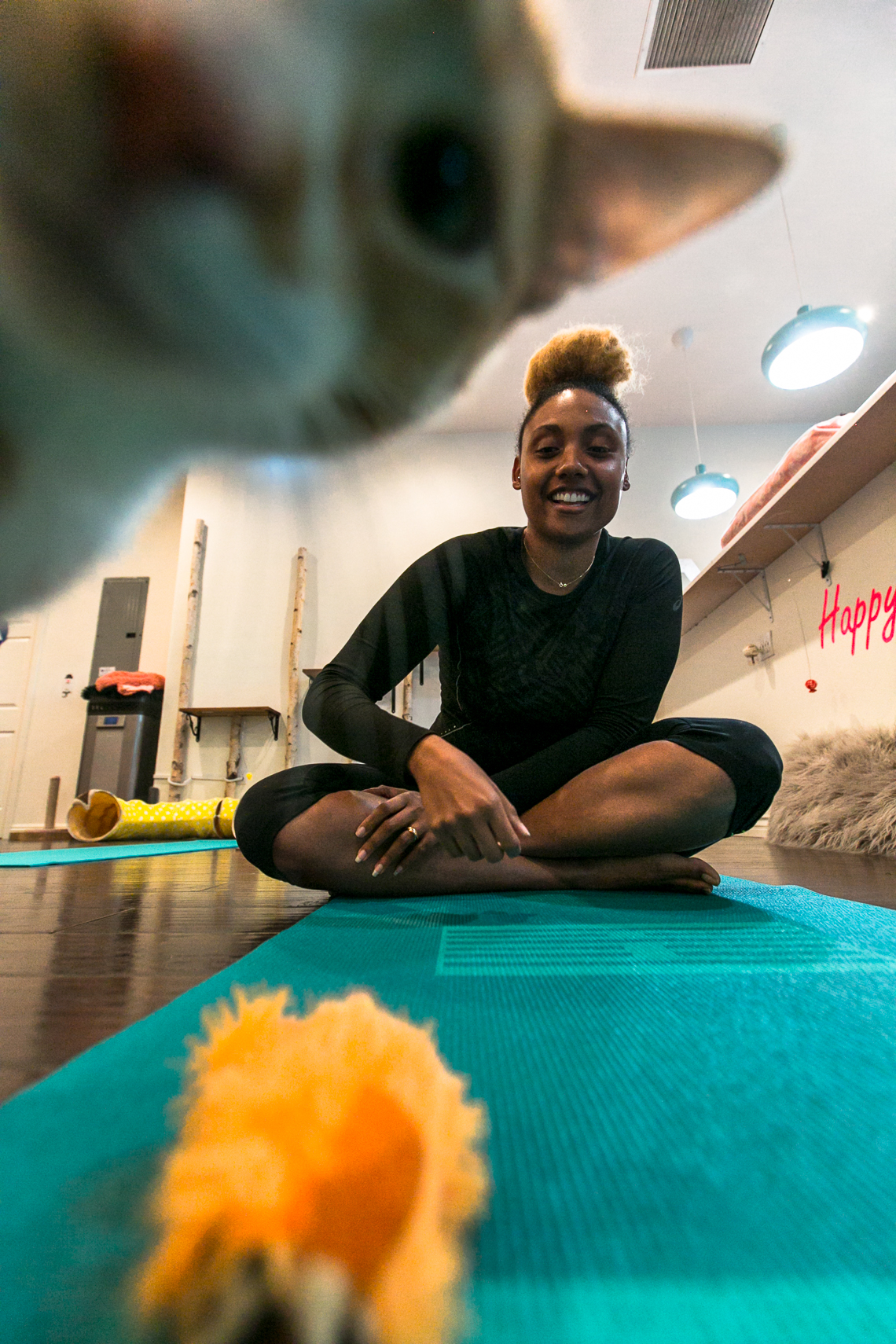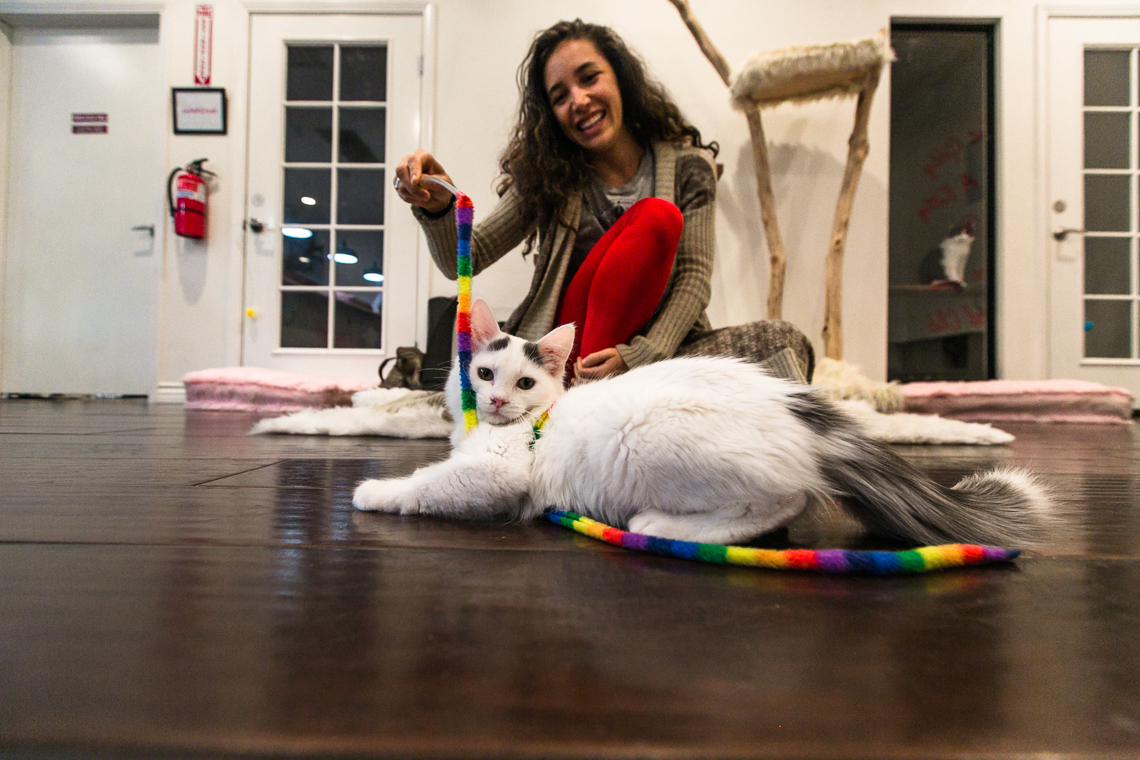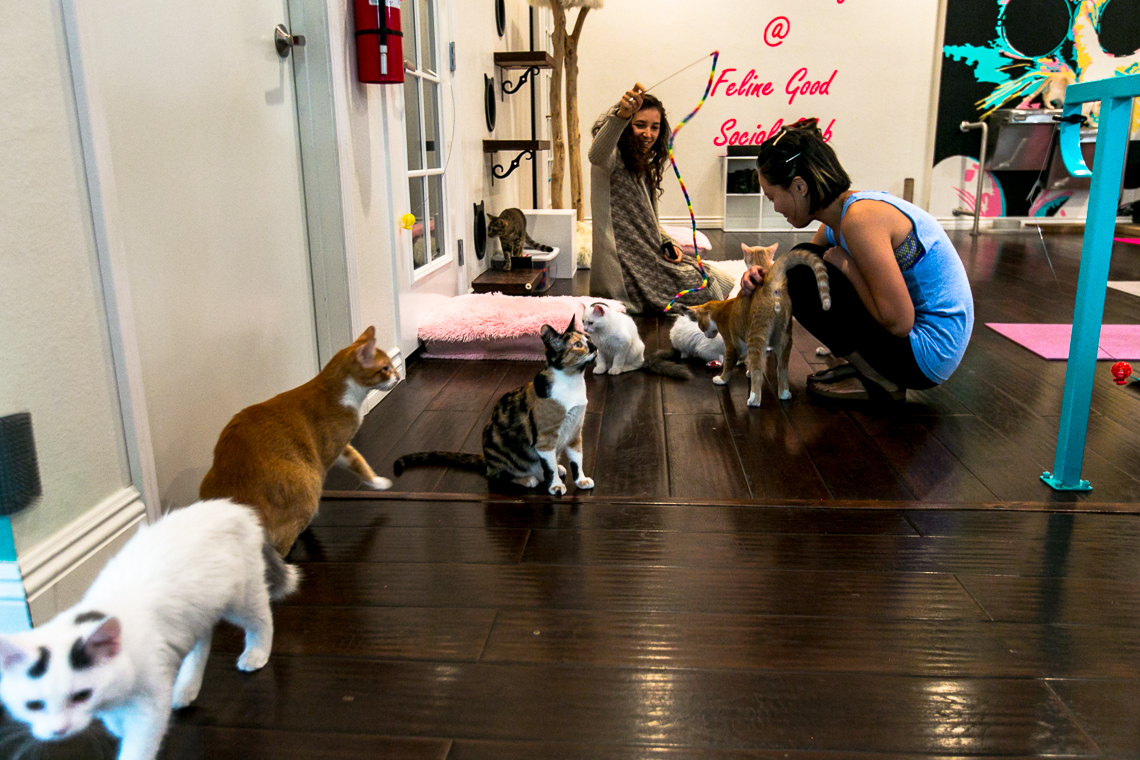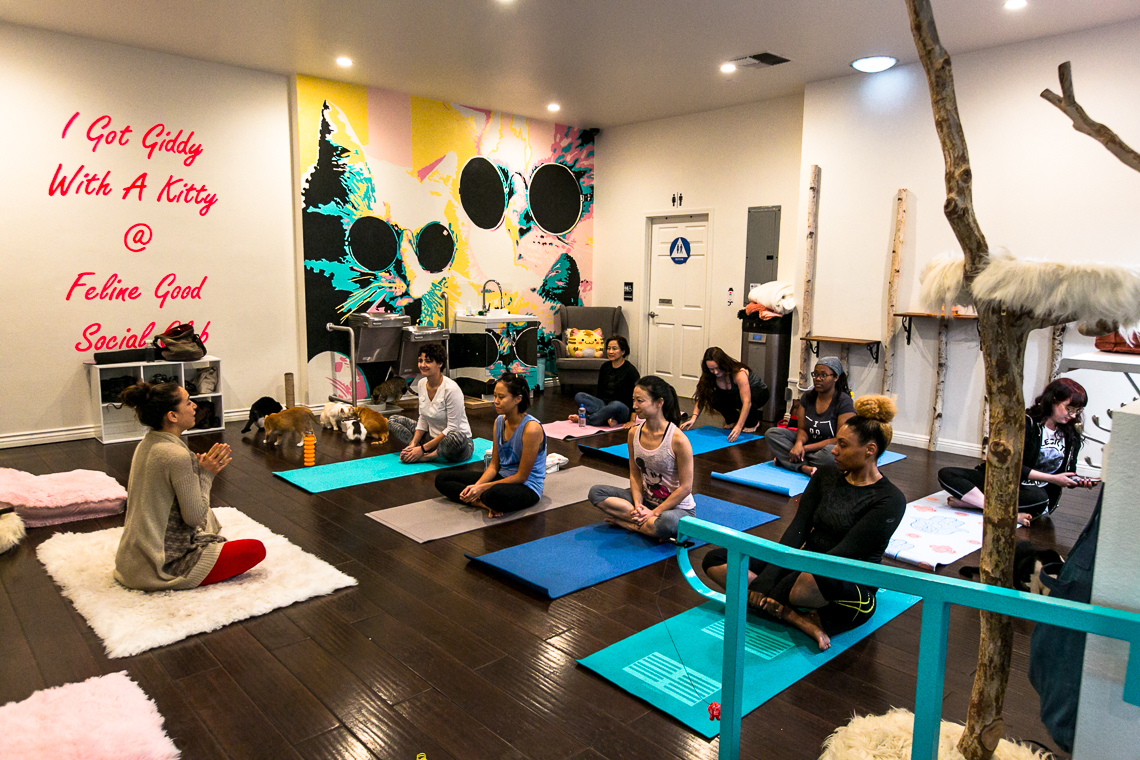 Get to know yourself better and take the Ancestry DNA test. I did! Here's some things you should know…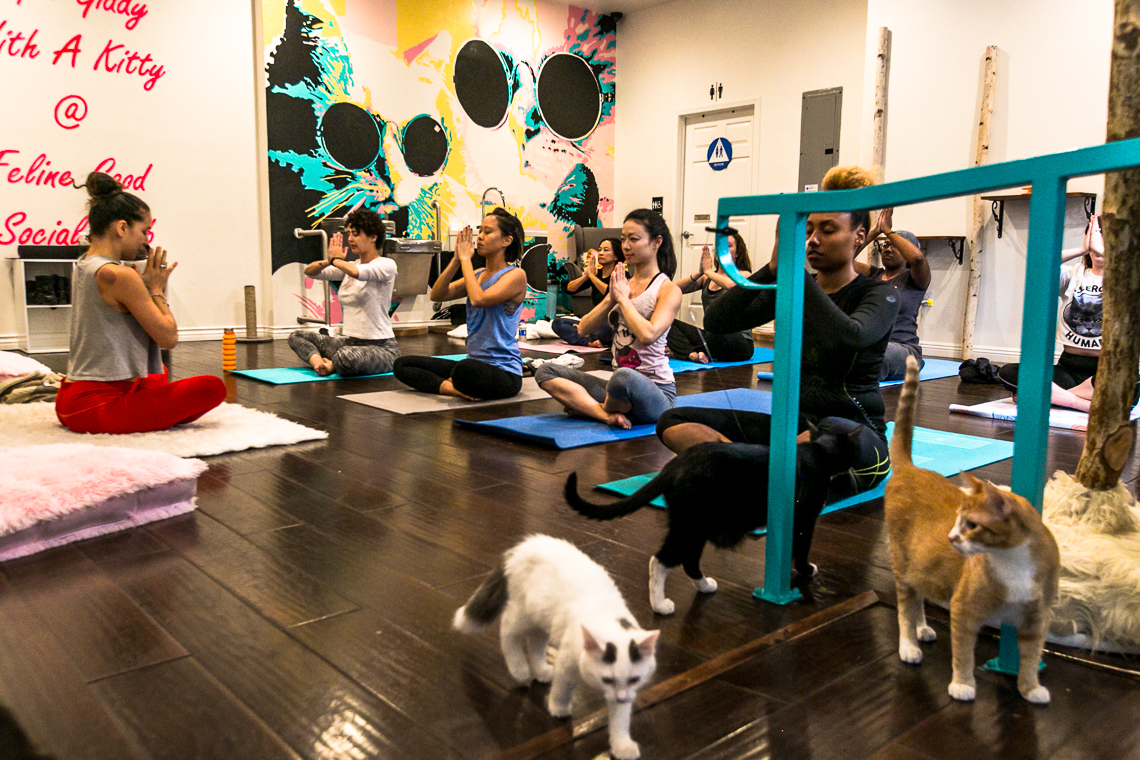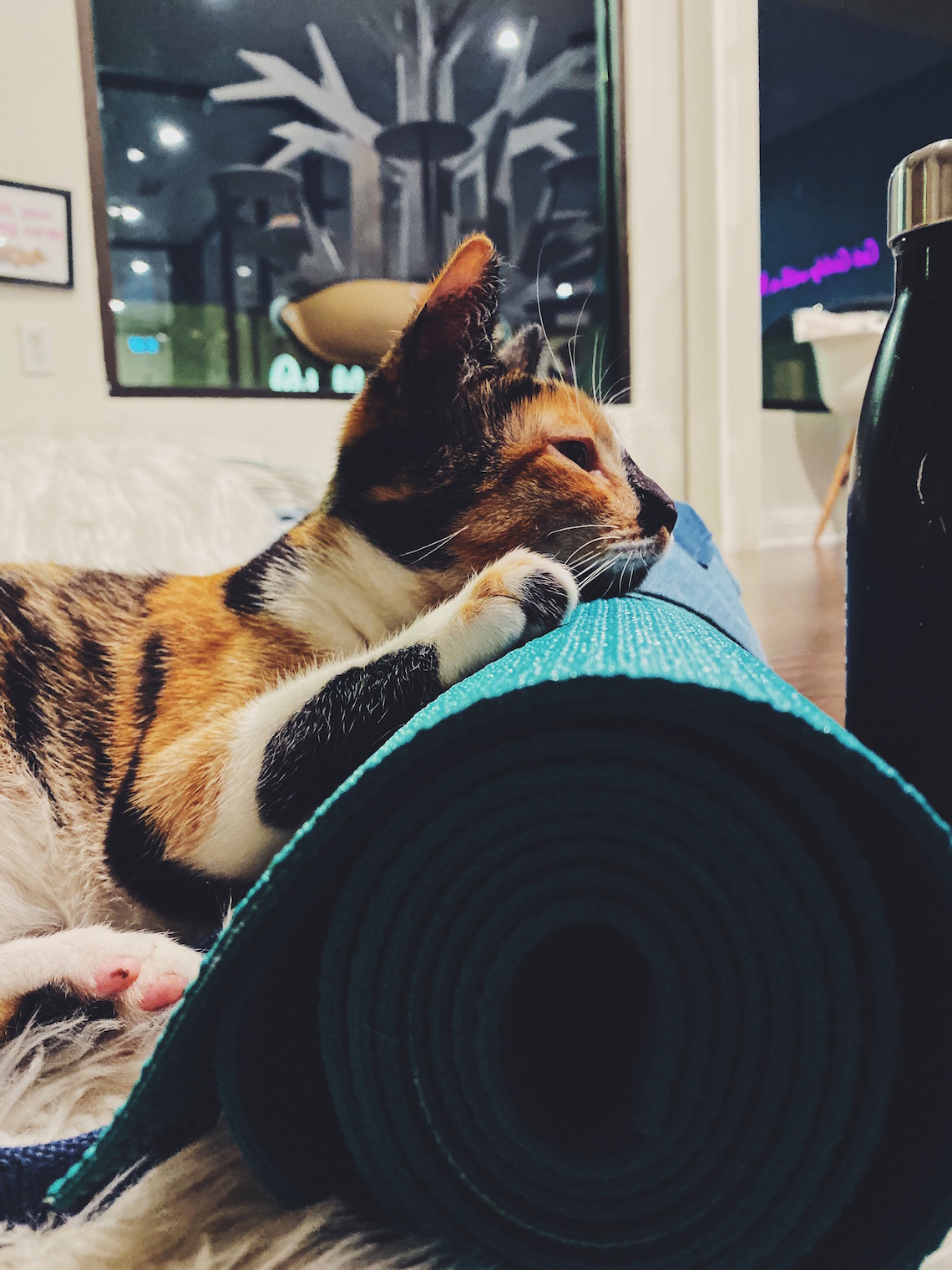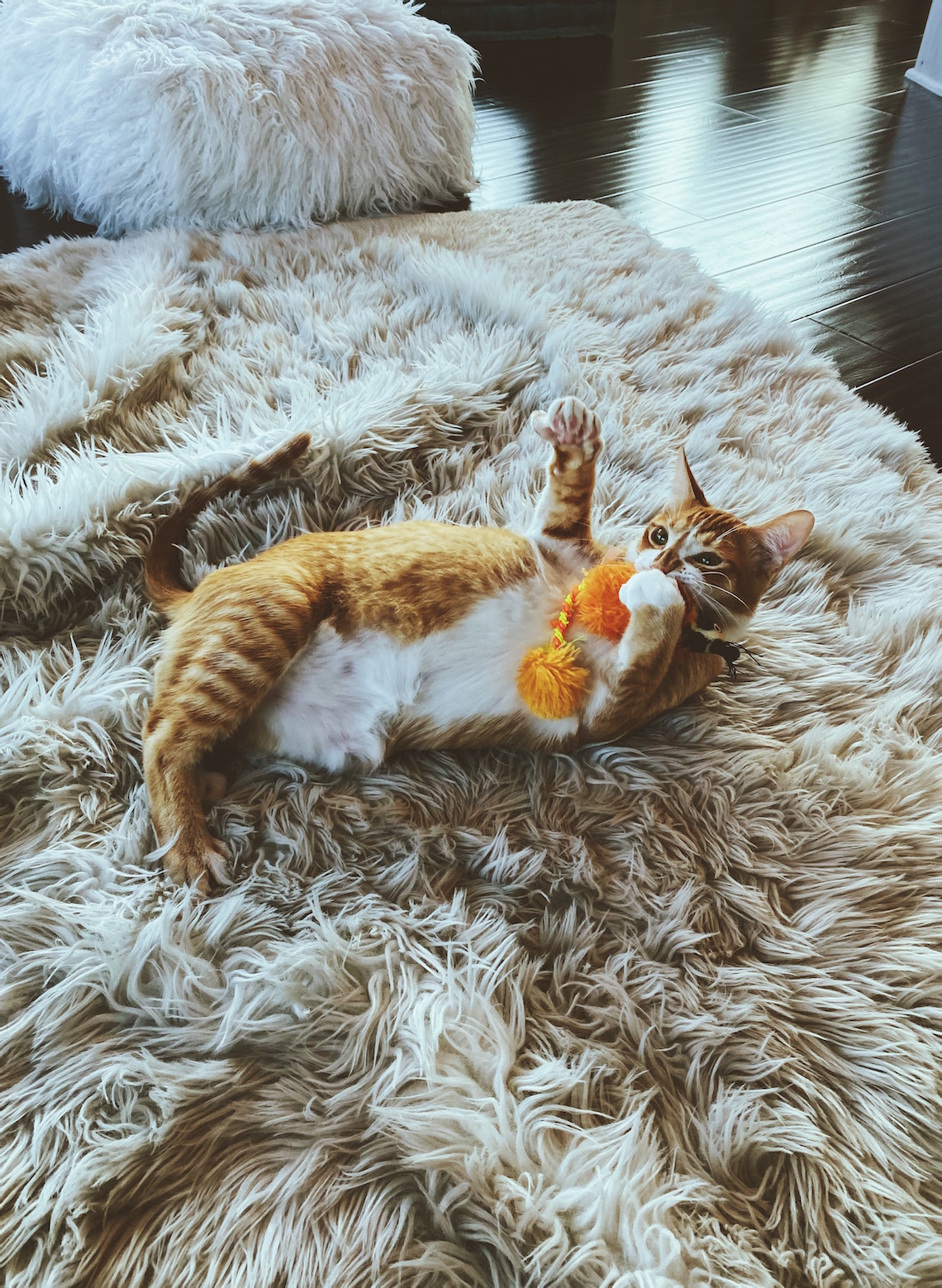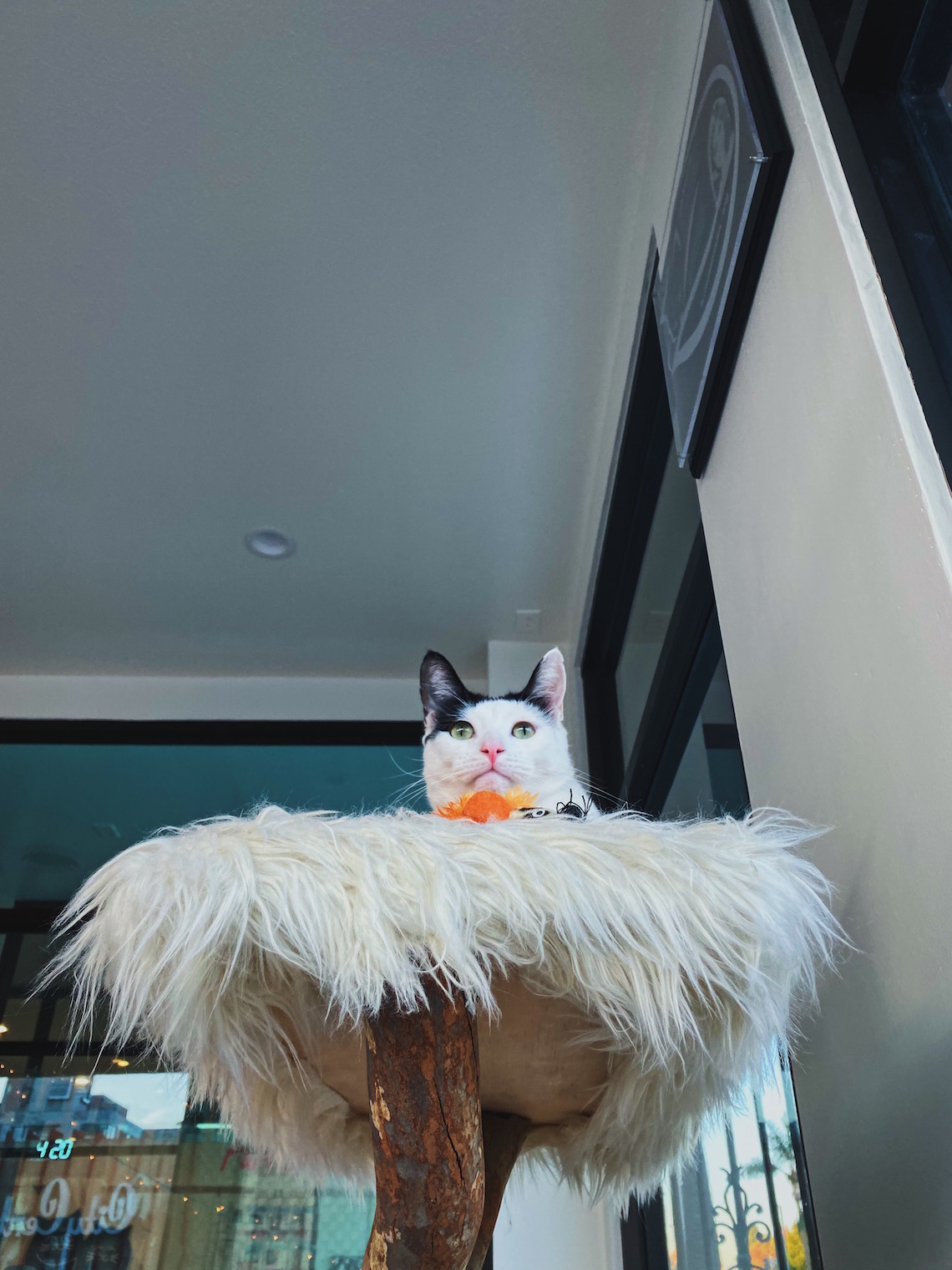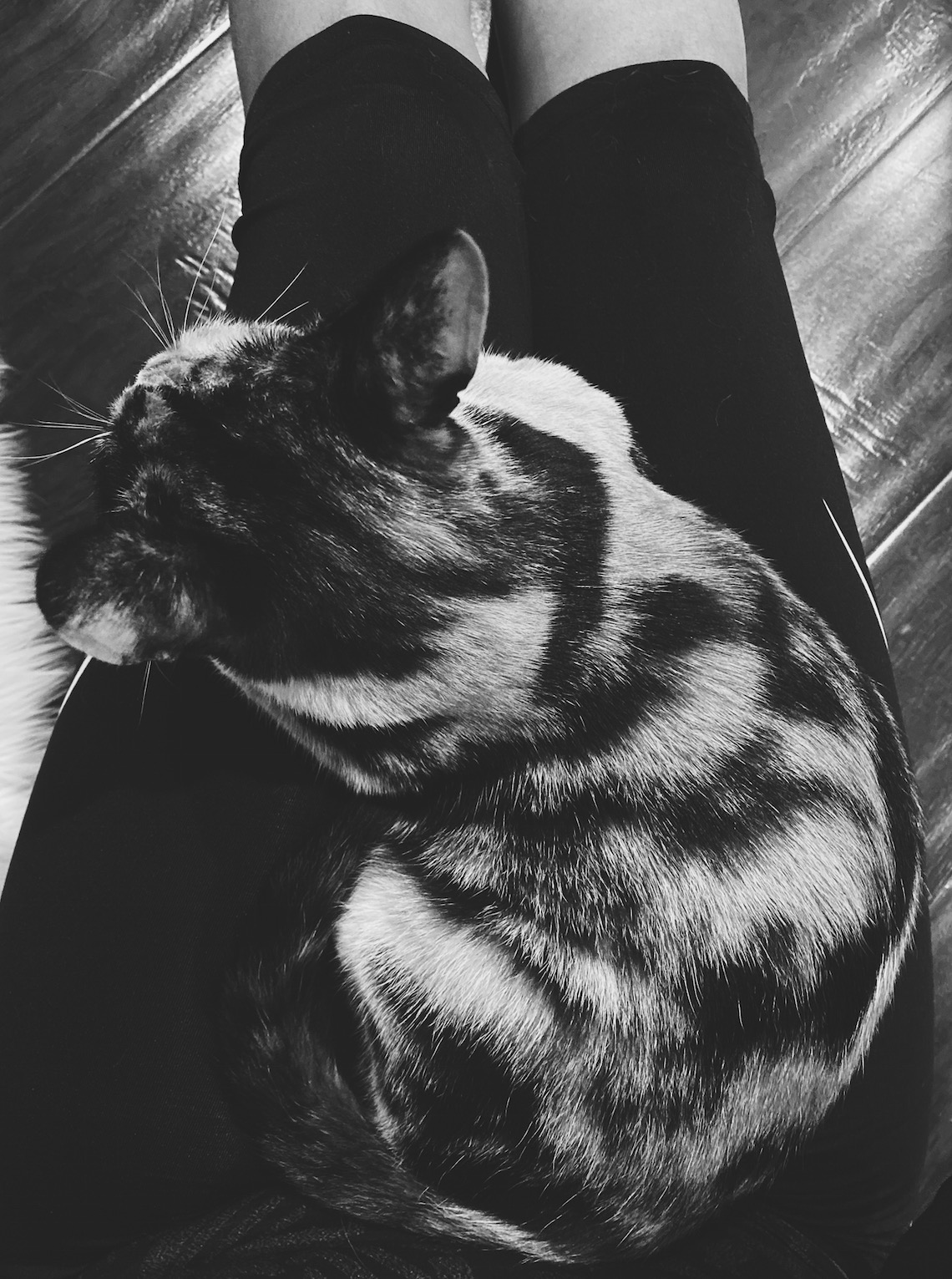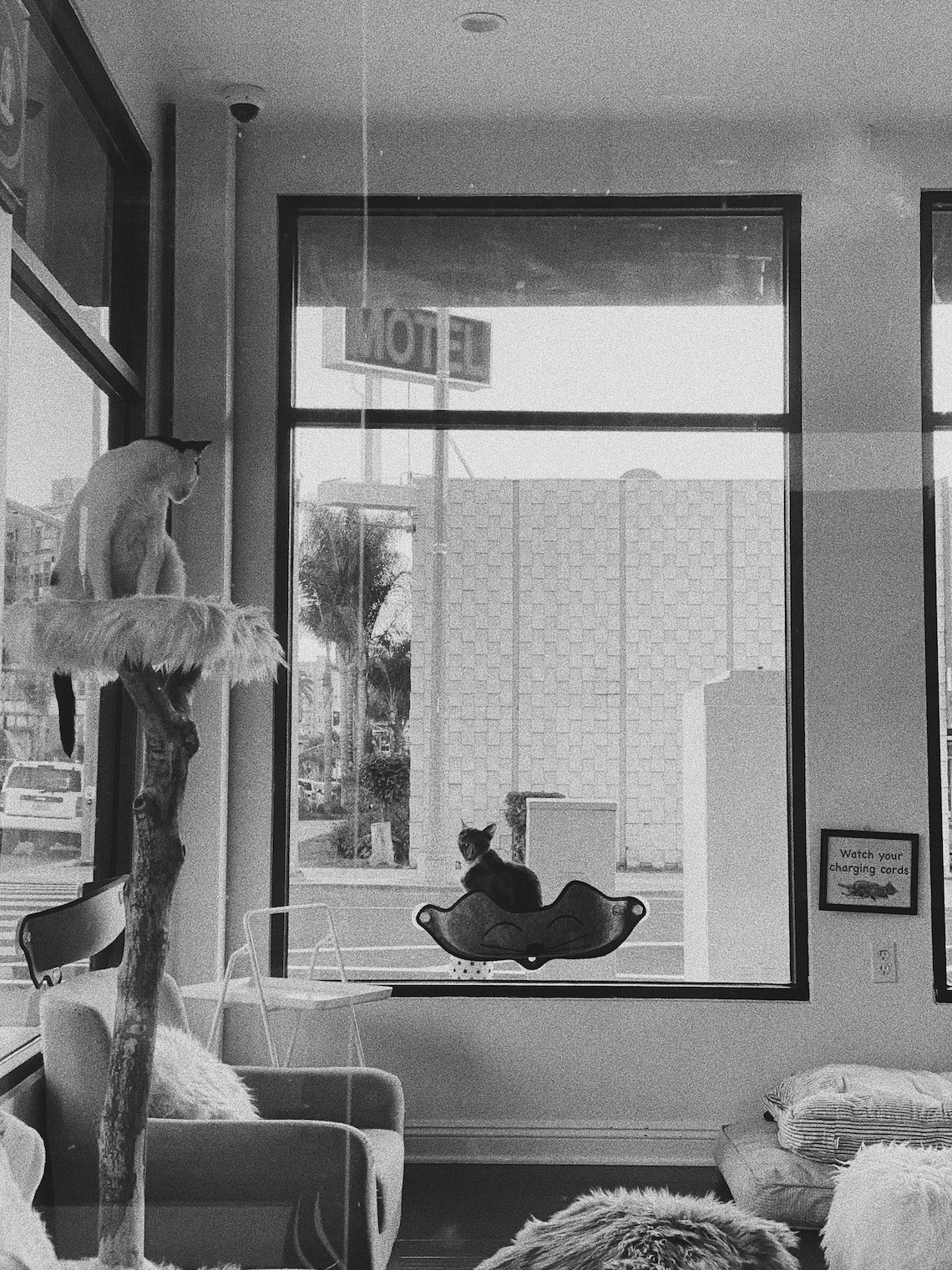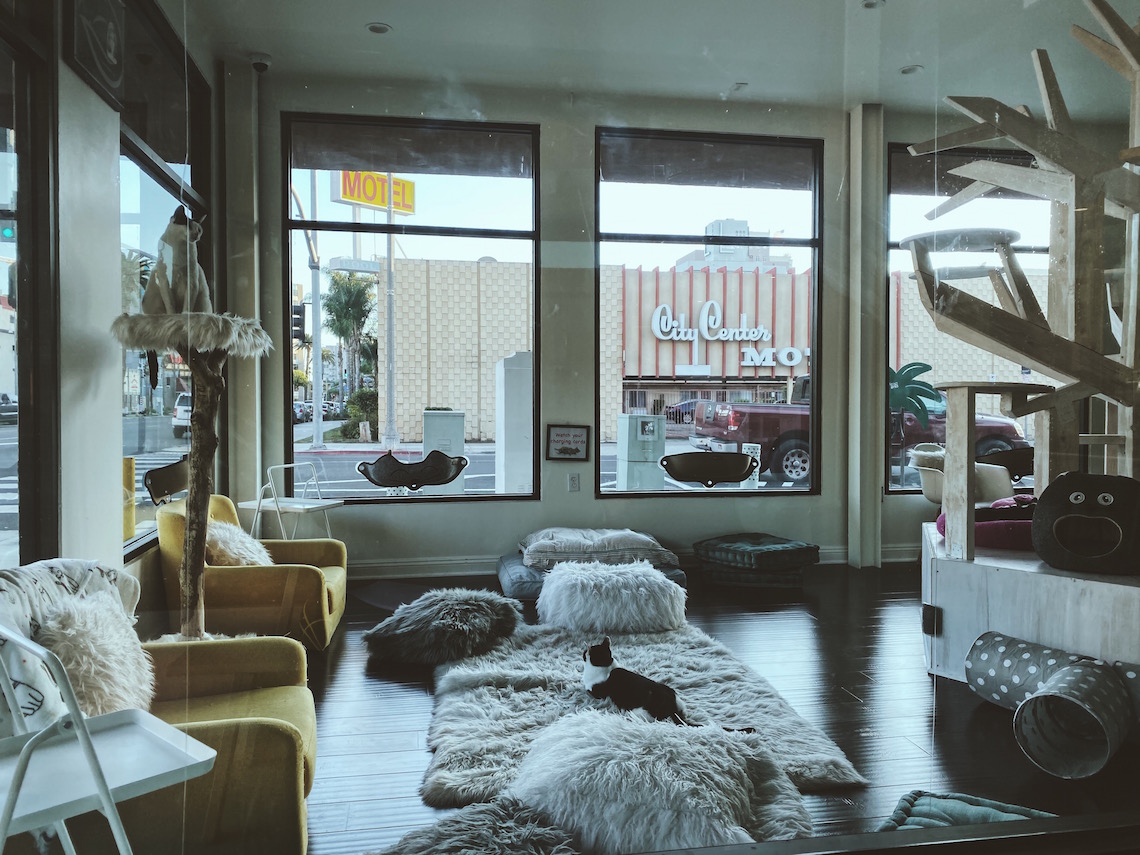 This is not a sponsored post, but if anyone is looking for family friendly things to do in Long Beach, or if you are interested in checking out the Feline Good Social Club, here's the link to their website where they provide an events calendar and information about their kitty community.