What to Wear to Work with Sneakers
Work Outfit with Sneakers
A question we always ask ourselves is, "What to wear to work today?" And these days, this can mean a variety of different things, depending on what profession we are in, or what type of company we work for. For those of us who work in a corporate setting, sneakers haven't always been the most outfit flattering or office-environmentally friendly, because of company dress codes.
In recent times though, I think most of us, (or at least those of us paying attention to clothes, shoes and fashion all the time) have noticed more acceptance towards  wearing sneakers in unexpected environments. Myself, having experience working for a sneaker company in the recent past, I have been comfortable wearing sneakers in corporate work environments for quite some time now.
With that in mind, I have pulled together 6 different work appropriate outfits, paired with sneakers, in hopes to provide some inspiration to all of you out there looking to try out this hybrid look. All 6 looks are posted in separate posts in order to provide as much detail as possible, on each outfit, for you all.
My hope is that, for those reading this, you will feel empowered to wear the clothing that you already own and wear to work, just recreating those items to coordinate with sneakers. The idea here, is that you are now able to create more opportunities to wear your favorite tennies, or have more of an incentive to purchase the pair you have been eyeing, but knew you would only have the chance to wear them on the weekends.
-KayGood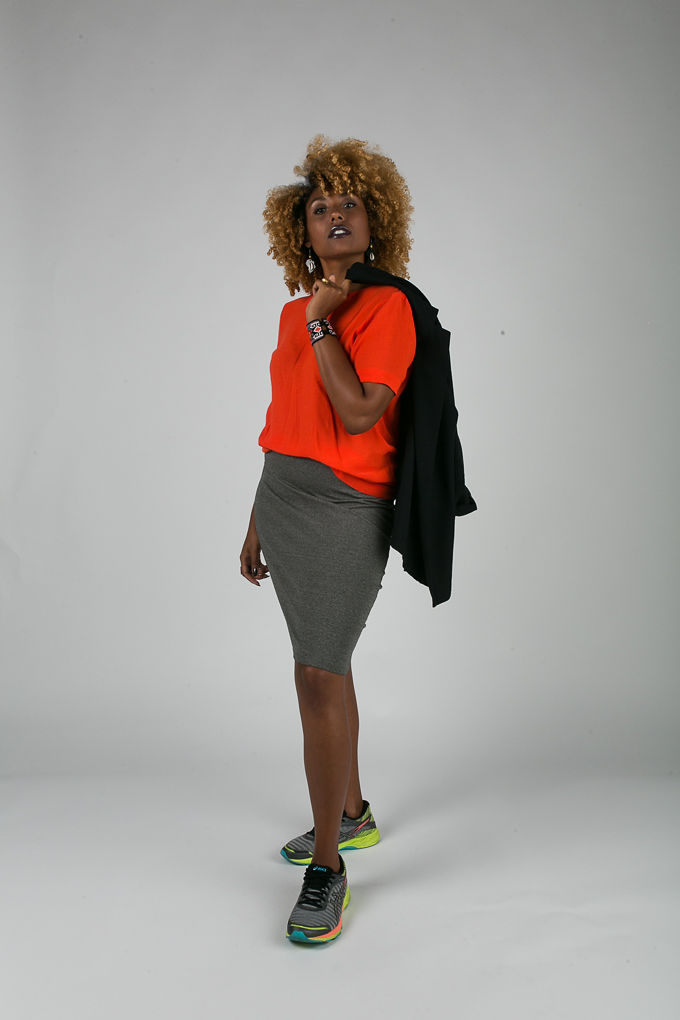 How To Wear a Similar Look – (Option 1)
Clothing Items Needed:
Pencil Skirt:
In a neutral color. This gives a professional look to start the outfit with.
Top:
A brightly colored blouse with a boxy/square shape. For those of us who enjoy showing our personality through color! The boxy shape is good for adding some "style" to the look.
Blazer:
Most importantly, the blazer must be OVERSIZED for this look. It covers your backside, which many of us want to do at work, when we wear tight skirts. Any neutral color will work. But I encourage black for a look similar to this, or a nuetral color that coordinates really well with the skirt. A black blazer will bring "up" this look a bit more, in contrast with wearing a "laid" back sneaker. Or! To have some fun with it, if appropriate, you could possibly wear a patterned/print blazer, but not too crazy that it clashes with your bold, bright blouse and sneakers. For this, option 1, wear the jacket open.
Sneakers:
Choose a neutral color with a pop of color that either coordinates or matches the color of your shirt. =)
Jewelry:
Coordinate on the basis of your personality and preference. =)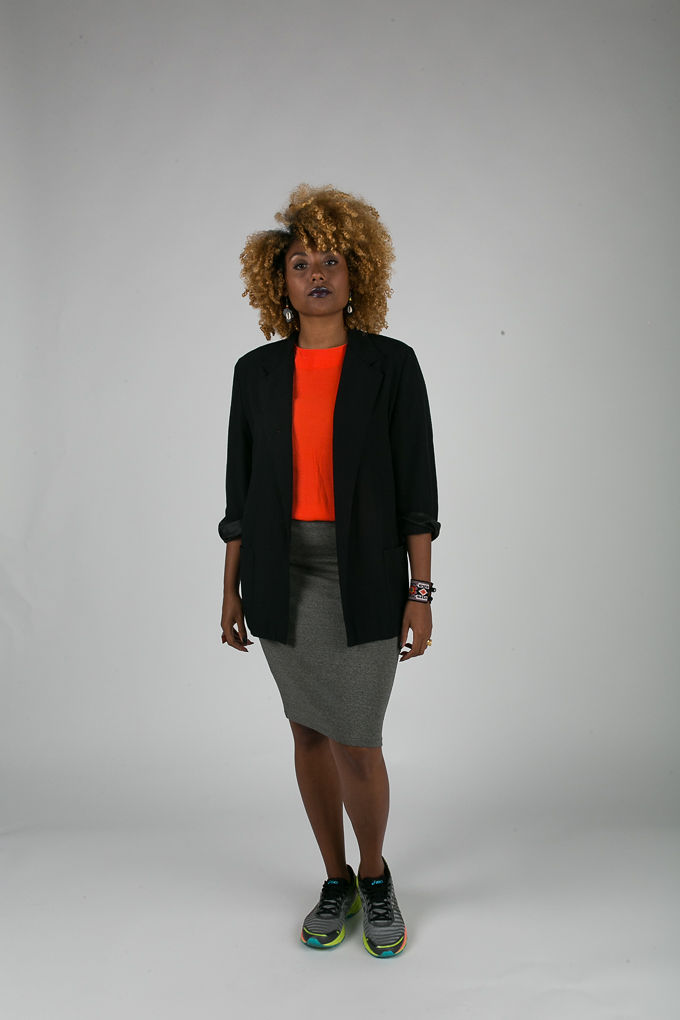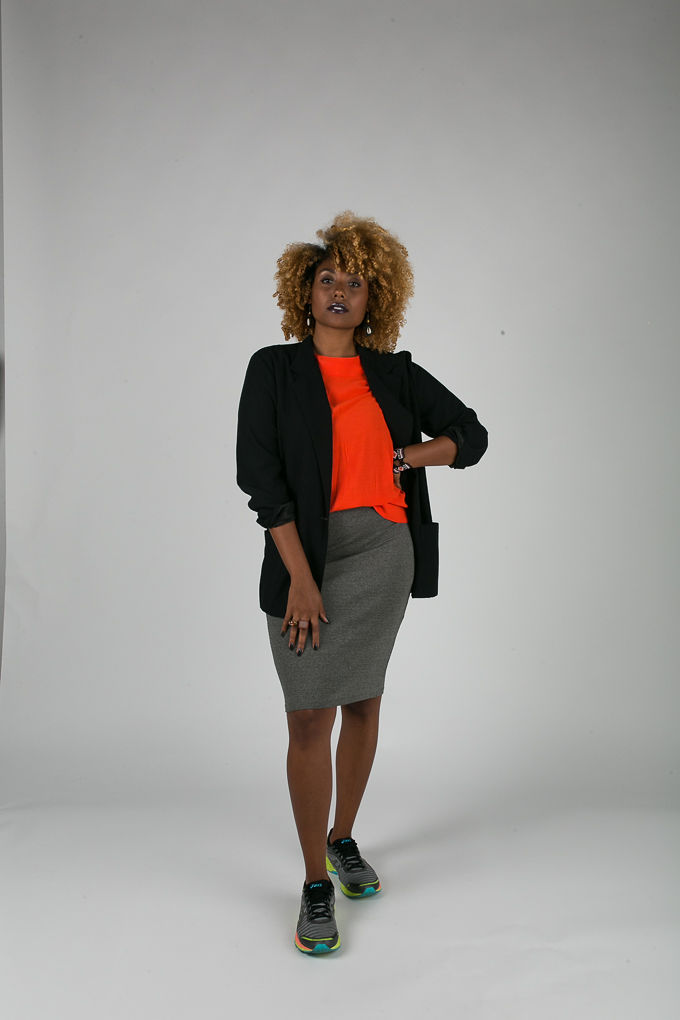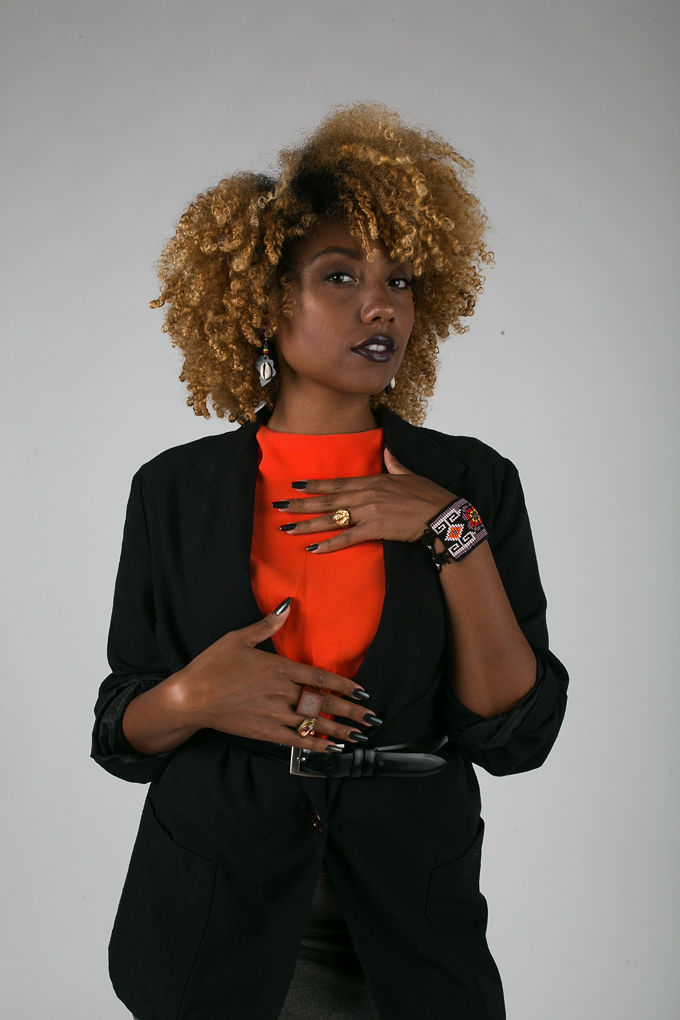 How To Wear a Similar Look – (Option 2)
Additional Clothing Items Needed to Option 1:
Belt:
Choose any black belt that you have. Wide or thin will work, based on your taste. (I'm borrowing babe's belt.) Instead of wearing your jacket open, rock your blazer closed, and buttoned, with the belt wrapped around your waist. Giving you shape and structure, both great for a work setting.
See more work outfits here.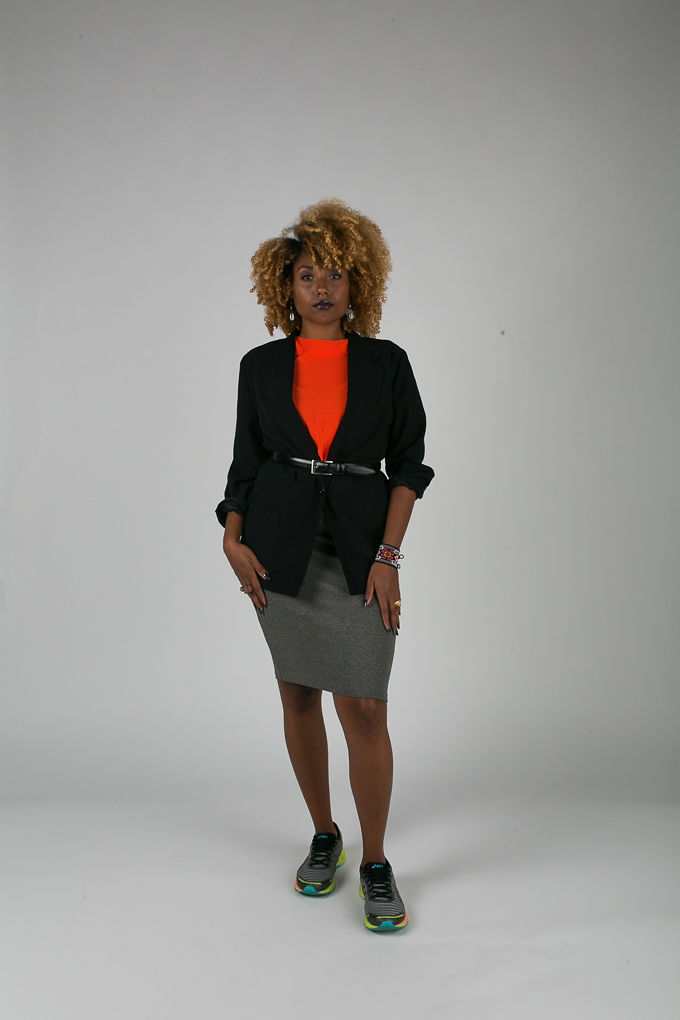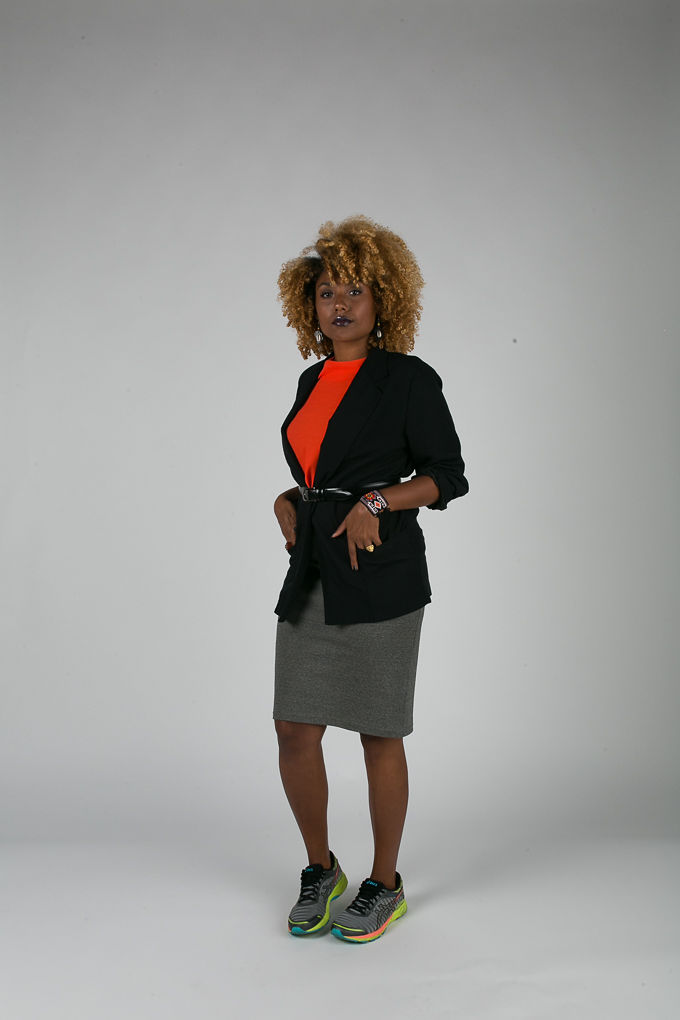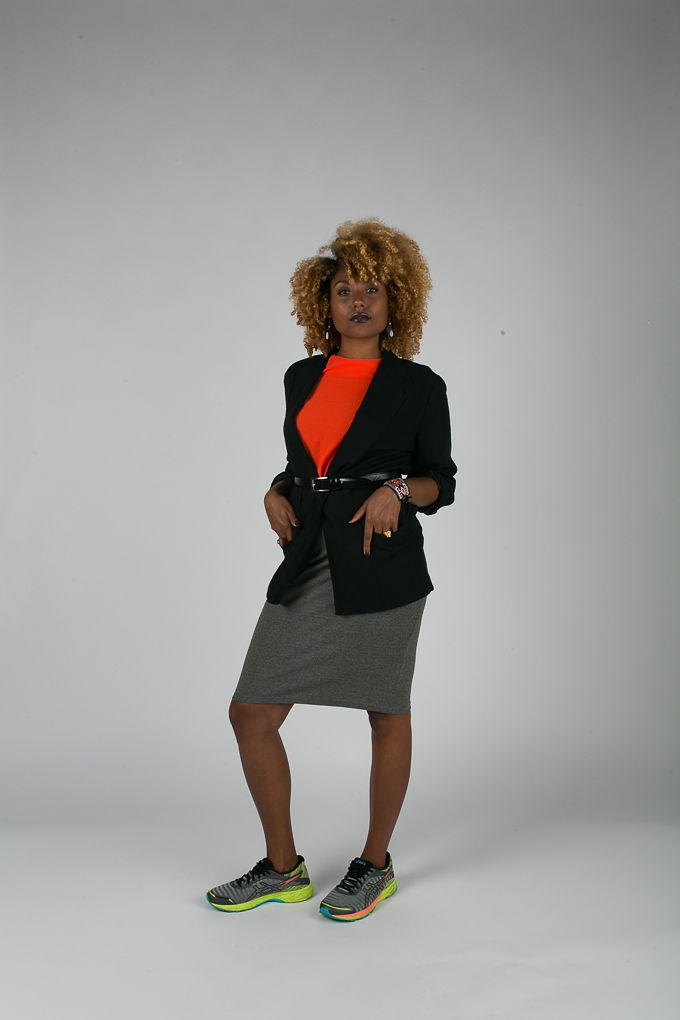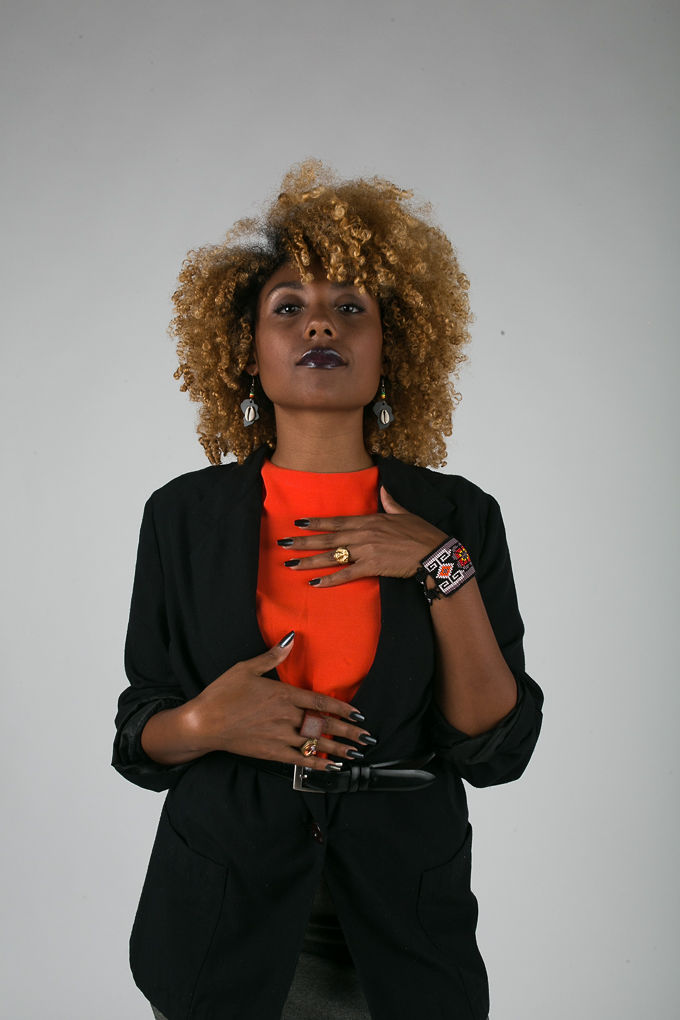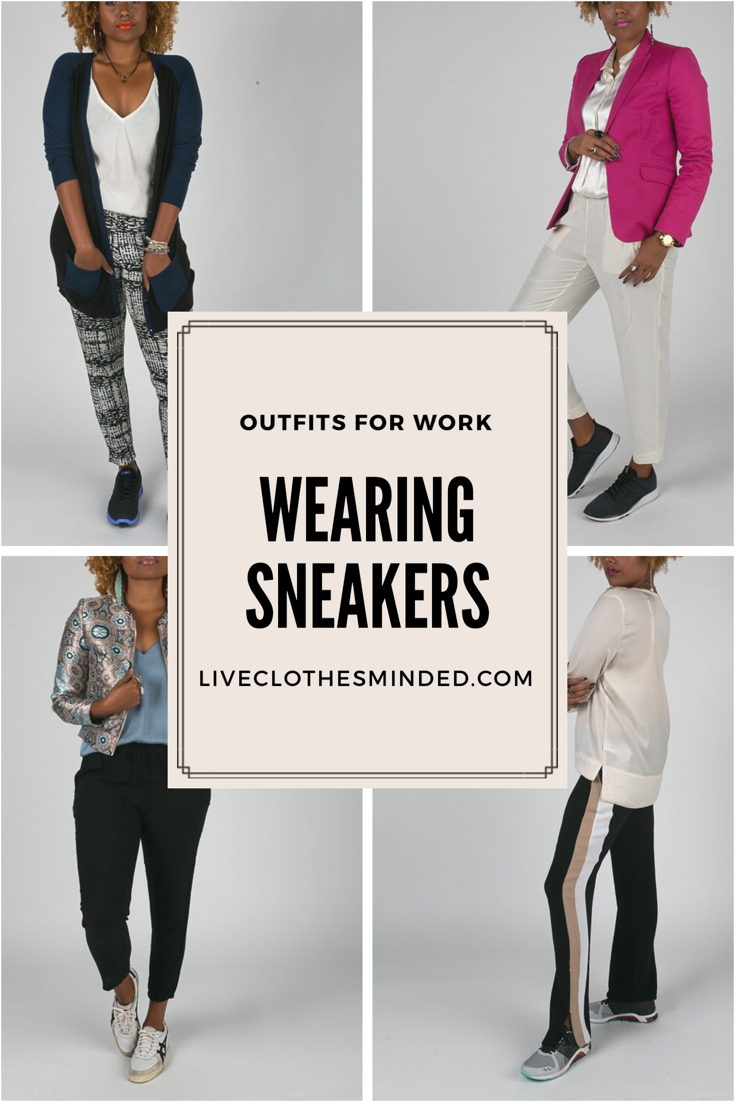 Outfit Details:
Blouse: &OtherStories
Blazer: Thrift!
Skirt: H&M
Sneakers: ASICS
See more work outfits here.
* The clothes pictured in this post are not new, and may not be available in stores. The details above are to inform you of the brand or store that an item was purchased.